Did I ever tell you how much I love the angst? Because I seriously do! I guess everyone is already aware there is something wrong with K but only Will knows how much this is getting to her. I love their dynamic when they are their happy-children-of-Apollo selves but that last conversation at the hospital I had to make this.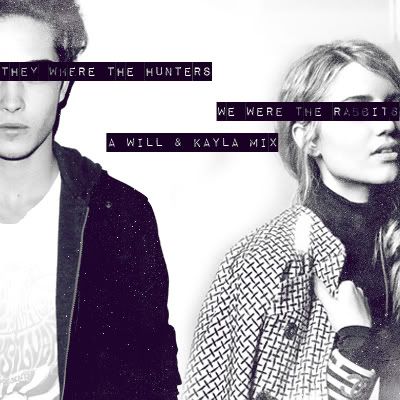 A Fine Frenzy - Rangers

Further in the hole we go
Saddest creatures tugging at our clothes
Cutting through the twilight, sword in hand
Strangers once united against the land

At the sound of a bell
The running people from their shells
The rangers scream out to the cabins
They are the hunters and we are the rabbits
Lily Allen - Chinese
I don't want anything more
Than to see your face when you open the door
You'll make me beans on toast and a nice cup of tea
And we'll get a Chinese and watch TV
Tomorrow we'll take the dog for a walk
And in the afternoon then maybe we'll talk
I'll be exhausted so I'll probably sleep
And we'll get a Chinese and watch TV
You wipe the tears from my eye
And you say that all that it takes is a phone call
I cry at the thought of being alone and then
I wonder how long it will take til I'm home again


Imogen Heap - Hide and Seek

Where are we? What the hell is going on?
The dust has only just began to fall
Crop circles in the carpet, sinking, feeling
Spin me around again and rub my eyes
This can't be happening


Snow Patrol - Run

Louder louder
And we'll run for our lives
I can hardly speak I understand
Why you can't raise your voice to say
To think I might not see those eyes
Makes it so hard not to cry
And as we say our long goodbye
I nearly do
Light up, light up
As if you have a choice
Even if you cannot hear my voice
I'll be right beside you dear


The Warblers - Somewhere Only We Know

And If you have a minute why don't we go
Talking about that somewhere only we know?
This could be the end of everything
So why don't we go
Somewhere only we know?


Death Cab for Cutie - What Sarah Said

And it came to me then that every plan
Is a tiny prayer to father time
As I stared at my shoes in the ICU
That reeked of piss and 409
And I rationed my breaths as I said to myself
That I'd already taken too much today
As each descending peak on the LCD
Took you a little farther away from me
Away from me
Cause there's no comfort in the waiting room
Just nervous pacers bracing for bad news
And then the nurse comes round and everyone lift their heads
But I'm thinking of what Sarah said
That love is watching someone die

A Fine Frenzy - The Beacon

You say your time has come
You're tired of waking up
Don't be obscene, I can't conceive of
Living without you
You say you drag us down
No one should want you now
When I start to cry, you kiss my eyes and say
I'm not allowed to




-Do I deserve a nice feedback?