I'm so excited for the tv series I decided to finally stop thinking about that Robb mix I promised when I made
Jon
's and actually doing it. I had pretty much every song in my had so it wasn't really difficult but Livejournal was being a bitch and not working right since yesterday... Well, that's pretty much it! Enjoy!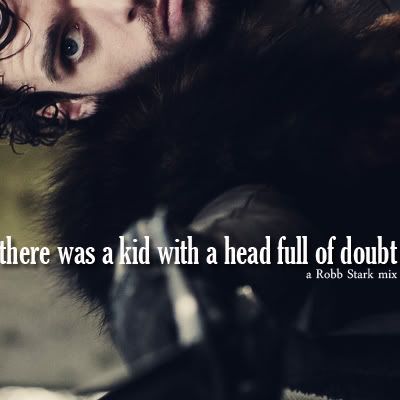 The Avett Brothers - Head Full of Doubt / Road Full of Wonder
There was a dream and one day I could see it
Like a bird in a cage I broke in and demanded that somebody free it
And there was a kid with a head full of doubt
So I'll scream til I die and the last of those bad thoughts are finally out
There's a darkness upon me that's flooded in light
In the fine print they tell me what's wrong and what's right
There's a darkness upon me that's flooded in light
And I'm frightened by those that don't see it
Muse - Butterflies and Hurricanes
Change
Everything you are
And everything you were
Your number has been called
Fights, battles have begun
Revenge will surely come
Your hard times are ahead
Best
You've got to be the best
You've got to change the world
And you use this chance to be heard
Your time is now

The Mountain Goats - Black Pear Tree
I set the sapling in the hole
Started gently tapping down the dirt
I saw the future in a dream last night
Somebody's gonna get hurt, somebody's gonna get hurt
I hope it's not me
But I suspect it's going to have to be
Incubus - Drive
Whatever tomorrow brings I'll be there
With open arms and open eyes, yeah
Whatever tomorrow brings I'll be there
I'll be there
Would you choose water over wine?
Mumford & Sons - Thistle and Weeds
Spare me your judgements and spare me your dreams
Cause recently mine have been tearing my seams
I sit alone in this winter clarity which clouds my mind
Alone in the wind and the rain you left me
It's getting dark darling, too dark to see
And I'm on my knees, and your faith in shreds, it seems
Poets of the Fall - Carnival of Rust
It's all a game, avoiding failure,
when true colours will bleed
All in the name, of misbehaviour
and the things we don't need
I lust for after no disaster can touch,
touch us anymore
And more than ever I hope to never fall
Where enough is not the same it was before
The Smiths - How Soons is Now?
I am the son
And the heir
Of a shyness that is criminally vulgar
I am the son and heir
Of nothing in particular
You shut your mouth
How can you say
I go about things the wrong way ?
Belle and Sebastian - I Fought in a War
I fought in a war, and I didn't know where it would end
It stretched before me infinitely, I couldn't really think
Of the day beyond now, keep your head down pal
There's trouble plenty in this hour, this day
I can see hope I can see light
Craig Armstrong - Amber
Instrumental
Jen Titus - O Death
O death
O death
O death
Won't you spare me over another year?
But what is this I can't see
Witch ice cold hands taking hold of me?
-
Winter
Comments are Coming?
Current Mood:
excited