I'm off to town tomorrow to get a tattoo priced... uh, I thought I'd pop up a general sketch of it on here. Just to get opinions. it may be cliche, I don't know. I drew it up myself this evening based on a design I've had in my head for awhile.
I want it placed on the inside of my wrist, with the top of the skull/top-most star towards my hand and the remaining stars trailing up my arm, ending midway, towards my elbow. I want it o my right arm by the way.
So... What'd'ya' think?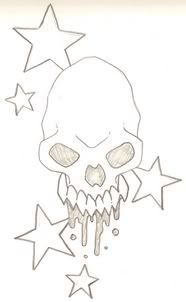 Well? Folks? Bad? It's bad isn't it. Poo.
EDIT: I've been skating around the apartment in my brand-spanking-OLD, cheesy, 70s-esque roller-skates. Like a bloody fool. HA.