Islam has its annoyances though, chief amongst them (once we discount the obvious of it being an unreformed, brutalistic, misogynistic desert religion that inspires violence and division) is the claim by many of its followers that it is somehow unique, special, scientifically rigorous or that - unlike other religions - it has evidence in support of it.
The irony of course is that these are claims made by many religions.
Recently I was sent
this pamphlet
in support of the claim that Islam was supported by evidence and I called it a 'string of lies from beginning to end'.
Before I get back to writing more fun things this blog post is, then, my case for that since it's too much to throw up onto Twitter.
Page 1/60The Amazing Koran
- The meaning of 'amazing' is defined as causing great surprise or wonder. The Koran is not, then, amazing. Just about any religion you care to mention has a similar book of bad poetry, homilies and instruction. The Torah, Bible, Rig Veda, Book of Mormon, Scientology Tapes, you name it you can find the rambling scrivenings of some madman that only his followers are convinced is in any way special. Contextually, even if the Koran were the most wonderful, poetic and fabulous screed of bullshit ever written, it still wouldn't be amazing. I guess 'The Wearingly Typical Koran' wasnt such a catchy title.
Doctor Gary Miller
- Doctor Miller has a doctorate in mathematics which is completely irrelevant to much of what he claims and talks about within this pamphlet. The impressionable may see 'Doctor' and assume a level of authority and relevant learning which simply isn't present. He also fails to mention with any readiness that he's a former Christian missionary and was therefore already barking before he encountered Islam. Even if we're generous and call this misrepresentation, it's still a form of lying.
Page 3/60Not What You'd Expect
- This is anecdotal but I don't think I've met a single non-Muslim who has read the Koran who has been surprised. Generally speaking it's exactly what we expected. A rambling, incoherent and self-contradicting muddle of nonsense. Certainly the only surprise it gave me was that it was even less coherent than the Bible and as much, if not more, of a chore to read. Let's notch this one up as a half-truth.
Page 4/60Merchant Marine
- The story given here is apocryphal with no evidence in support of it. It's merely claimed without support that this man, whoever he was, converted because of the description of a storm. That would have to be one very simple-minded sailor to do so and it's either a shame or a blessing that he didn't read Moby Dick first or he might be bowing down to an idol of a white whale. Is it amazing or remarkable that there should be descriptions of storms or the sea in the Koran, a desert religion book? Not at all given that there's the Arabian Sea, the Caspian, the Black Sea, the Red Sea and the Gulf of Aden all around there. This is the region the Sinbad stories come from for the love of Pete. Given the origin of the written Koran as the half-remembered and pieced together fragments of Muhammed's surviving followers, compiled by Greeks and Jews under the orders of Islamic rulers decades after his death it's even less surprising there should be such descriptions in there.
Page 5/60The Smallest Thing
- The claim is that the Koran predicted things smaller than an atom. Two problems. One, what the Greeks etc called the atom is not what we call the atom today. We adopted the name but not the concept. Atom then meant 'smallest thing there can be' so a modern equivalent might be a superstring or the Planck length. Two, this is a post-hoc interpretation of poetic language in an extremely vague language, Arabic, in order to cast it in a scientific light. These interpretations have changed over the years as scientific knowledge has advanced, therefore advantage science.
Page 6-7/60
Honey - This is a page of apologetics excuses as to why no explicit scientific knowledge is included in the Koran, which contradicts statements made elsewhere. The excuse given is that it would make the Koran outdated but the obvious foil to this is that an omniscient and omnipotent deity could easily construct a book that contained genuine evidence and that wouldn't become outdated in such a way, being of limitless intellect and power and so the Koran (or any other holy book) should do that easily... oh wait. Also the Koran DOES contradict itself, and frequently. My favourite is the discrepency in the days of creation between Sura 7:54, 10:3, 11:7 and 25:59, and Sura 41:9-12. This is just one of many and similar lists of contradictions also exist for other so-called holy books. It's also claimed on page 7 that nothing could be taken away, added or changed in the Koran. Given that it's been through at least three incarnations, all of them piecemeal, this appears manifestly untrue.
Page 8-9/60Mohammed and the Koran
- Yes, it is claimed Mohammed was likely ill, temporal lobe epilepsy. This is based on descriptions of his 'visions' from various Hadith which are held up in other circumstanes. In other words, this claim is supported by
evidence
. It's also known that TLE has a higher incidence amongst the very religious, so this is by no means a stretch. It's pretty fruitless going through the Koran looking for evidence one way or another on this as, as previously mentioned, it's been through several incarnations and there are other
reasons
why it's a rambling and incoherent mess other than it being the work of a madman, though this still seems likely.
Page 10-12/60SCIENCE!
- The Koran doesn't have falsification tests built into it. Or rather, it makes claims that DO falsify it. It is not unique in this aspect. There are testable claims in other religious books which collapse as readily as those in the Koran do under examination. So while it's not necessarily a lie to say that there are falsification tests, it IS a lie to say Islam goes about this scientifically and in the claim that it has already been proven true. I don't have a religion but the claim that other religions lack such tests is a false one. Christians, for example, would say you just have to pray to Jesus and he will reveal himself to you. The bible also makes claims about faith, such as if it's the size of a mustard seed (a common metaphor for 'the smallest thing ever' you can move mountains and trees and do anything - you can't. Religions are scattered with grandiose and testable claims and they come up short. It's also claimed here that in 1400 years nobody has found a mistake or discrepency in the Koran. This is
untrue
.
Page 13Ask Those Who Have Knowledge
- Attempts to associate the Koran with advancement in human knowledge when, in fact, the opposite is true. Why is it that the great flowering of Arabic science and technology was so long ago and now it's so behind?
Oh yeah
.
Page 14-15Embryology
- This is an old saw though I really don't know why Islam keeps banging this drum. Clots, clay, leeches, this takes us all the way back to my earlier criticism of post-hoc rationalisation of poetic language. Not to mention that the Greeks had an equal or greater amount of knowledge centuries beforehand and given miscarriages and the murder of pregnant women, this knowledge is unremarkable two ways as well as, if taken literally (as literally as you can take Arabic) being inaccurate and wrong.
I think that's sufficient to establish my point and I have better things to do than to go through the remaining 45 pages. I think I've established that at least 15 pages - one quarter - of the pamphle contain lies, half truths, mistruths and misrepresentations and I submit that this is disingenuous and unacceptable given the high and mighty tone and supposed goal of the pamphlet in 'revealing truth'.
As you know, I get into arguments over faith which, being an atheist and a rationalist I find destructive. Of late there's been a lot more argument with those of the Islamic faith rather than the Christian one, which is something I welcome as variety is the spice of life and my beef is with faith itself rather than any singular version thereof.
The crux point for me where understanding failed - and I do TRY to understand - was in the comparison of these two images:
If you object to the one on the left I can't see why you wouldn't also object to the one on the right. Aesthetically perhaps, yes, you might like one or the other more on grounds of proportionality, pose, execution etc (Zel's good, but still) but on content? Both depict female characters of unconventional build (Amazonian/broad). Both are similarly covered up. The Trollette is dressed perhaps more pragmatically for her little hunting trip. The amazon on the right is wearing useless armour this is bulky, revealing and not much use as armour. She's also striking the impractical sexy pose and is passive.
The trollette is exposing a little more flesh (not much, that midrift is leather armour, not skin, and those are shorts, not a miniskirt). If it weren't for the right hand amazon's boots there wouldn't be much in it.
I regard these two images as being essentially the same. Indeed I'd favour the trollette as a more positive image of an unconventional female fantasy figure. More realistic figure/shape, active stance, accomplished etc.
Apparently not though, though that's the opinion of someone I respect.
I recall a trip to London once, going around an art gallery following an elderly American couple. The woman was at least consistent in what works of the great masters of art down the ages she didn't like, which amounted to anything with bare breasts, which she thought was disgusting.
Even the process of TRYING to understand and work out what's objectionable seems to cause more trouble than it's worth. I'm about ready to give up.
So this came up, yet again...
The tip of my pinky finger is approximately one centimetre across.
This is subdivided into 10 millimetres. A millimetre is approximately the width of a grain of rice.
A micrometer is about the size of a pore on a surgical mask - viruses can still get through, though bacteria can't - to give you some idea.
A nanometre is approximately the same size as one end of a carbon nano-tube, those useful things that we're going to use building tiny machines. Calling them nano-machines is a bit of a misnomer as - obviously - they're going to have to be bigger than that.
A picometre is roughly the same size as the wavelength of a gamma ray.
A femtometre is roughly the same size as a proton, or thereabouts. Some theorise we could build machines at this scale, rather than nano scale, and this would be 'alchemy' in a sense.
An attometre? Well, we descent further into the subatomic here and that's the size of quarks.
The zeptometre is even smaller, now we're talking about preons, the building blocks OF quarks.
Now we're down to a yoctometre, that's about the size of neutrinos, they sleet through most matter without being detected.
Way down, much further than this, down several powers of ten we arrive at the planck scale. This is theoretically as small as anything in the physical universe can get. This is the realm of 'quantum foam' and 'superstrings'.
Some go further and posit that on some deeper level still the universe is 'information' and information can be expressed as ones and zeros, its presence and its absence.
That zero.
That absence.
THAT is how much of a fuck I give about the Royal wedding.
Oh, of course I give a fuck about the things surrounding it. I give a fuck that the country is grinding to a halt for the sake of a meaningless toff to get hitched and pump out more blueblood babies post-haste. I give a fuck that people are being given another day off (nice). I definitely give a fuck that I can't watch the news these days without seeing Nicholas - bloody - Witchall toadying up. I give a fuck that we seem to have stepped back 100 years in time in terms of deference to a bunch of stuck-up Germans with no more claim to real fame than Paris - fucking - Hilton.
Oh yes. I give a fuck about it that way, tangentially. Just not the thing itself.
Of course, we all know the real reason they're making a big deal of it and they're doing it now. It takes more than a single dose of commoner genes to correct the damage of centuries and William is losing his boyish good looks so fast it looks like he's melting. It seems Charles' 'lizard' DNA is rapidly asserting itself so we've had to sacrifice a princess to the dragon post-haste. Perhaps in another ten generations of them marrying relative commoners they'll produce some offspring that DOESN'T look like the progeny of a misguided attempt to breed dumbo and an angler fish, but I'm not holding out hope.
If you want me on wedding day I'll be drowning my screams in console games and work.
I have had many different recurring dreams in the past. Running from shadowy suited figures (shadows in suits) down a BBC SF style corridor and not being able to get away, stuck as though running through molasses. Falling from a cliff and hitting the ground - and not dying - but laying there, broken until I woke up. One about a video rental shop with a skeleton behind the counter and hardly any videos... reliving embarrassing moments from my past.
Lately though, my recurring dream is one in which I am the owner of a vast seraglio, replete with beautiful women of all races, shapes and sizes and lush with potted plants, greenhouses, fountains and pools. The appeal is obvious, but why I should have this dream and why it seems to be from some indeterminate time and place, a mix of fantasy, reality, history and other oddness I do not know, but I dream it more often than anything else lately.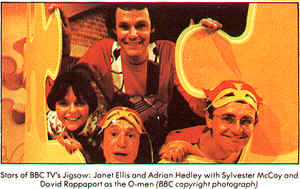 That would probably be Jigsaw which was responsible for many nightmarish things such as Mr Noseybonk, a terror of which I share with Charlie Brooker. Quite why British children's television is so fucking disturbing and traumatising I don't know but we seem determined to raise generation after generation of damaged kids by exposing them to scary people in masks and sinister puppets. A tradition that has been extended into the current generations with In the Night Garden and the Teletubbies.
Creepy.
It wasn't the more typical Mr Noseybonk that disturbed me and I was too young at the time to letch after Janet Ellis, what disturbed me the most were the O-Men, played by Sylvester McCoy and David Rappaport.
I remember distinctly sitting and watching Jigsaw (clearly I was a glutton for punishment) and industriously picking my nose when the O-Men climbed up a ladder to peer out of the screen and told 'James' (me) off for picking his nose.
I hand a profound moment of existential terror and the feeling of being WATCHED constantly stayed with me for days, weeks. I imagine this is somewhat what it's like to be a Christian.


Mr Ellis' 'Don't Look!' and 'Conan, what is best in life?' assaults on my brain and peepers being prime examples. You cannot help but look (ARSE EELS!) and whatever that is, it's not what is best in life... (Bifurcated cock? How do you pee!)
I am fascinated by people's peculiar sexual peccadilloes and the extremities thereof. Much of it is boggling, disgusting (to me) and vomitous (to me) but the existence and development of strange fetishes, how they come about, what they are and - in some cases - what the HELL they have to do with sex are spellbinding. I wonder, frankly, how many of these twistings come about and so it fascinates me, while at the same time horrifying me all too often.