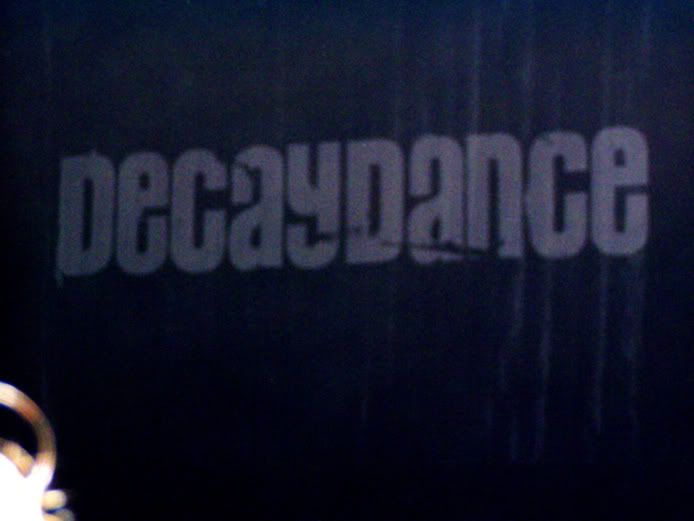 we did our make up on the train like the classy chicks we are.

on wednesday morning i was in work at eight am, until eleven am. by half past twelve i was on the train to london. we got to our hotel at four pm, time for an ultra quick make up retouch and then we were at the hammersmith apollo in the ridiclously long queue in the pouring rain by half four. it took an hour and forty minutes to get inside and we missed a couple of songs of cobra starship's set but what can you do?
(these pictures are of varying quality thanks to being not particularly close to the stage and also having some sort of mysterious smokey air between us and the stage)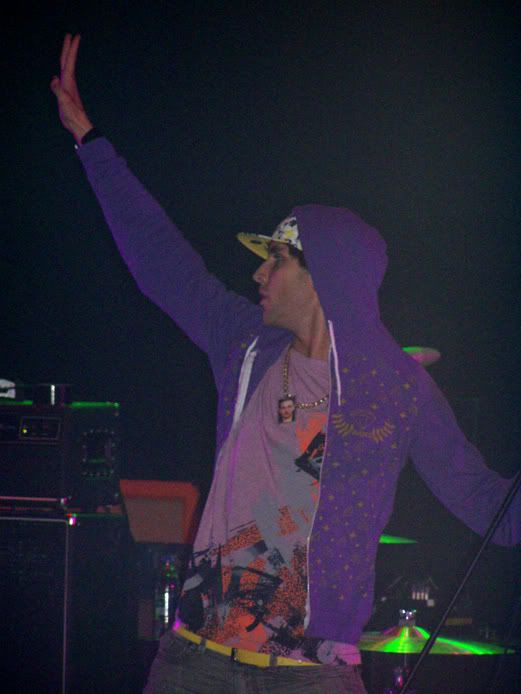 say hi to vicky t and vicky t's push up bra.



they still love glowsticks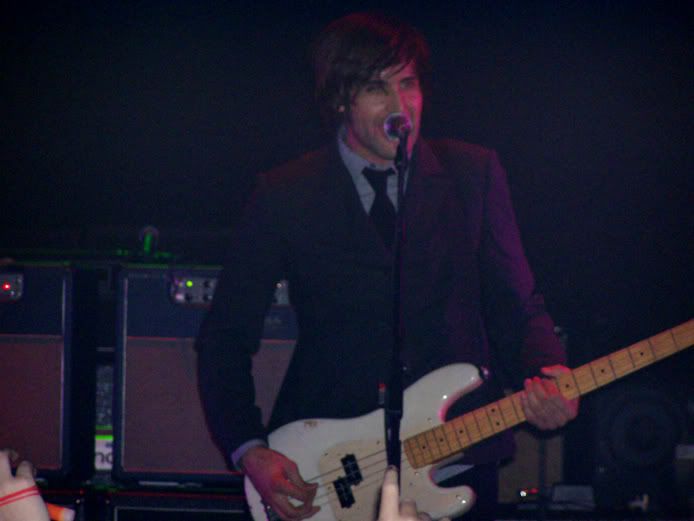 suarez = hot

first bill came out for snakes on a plane...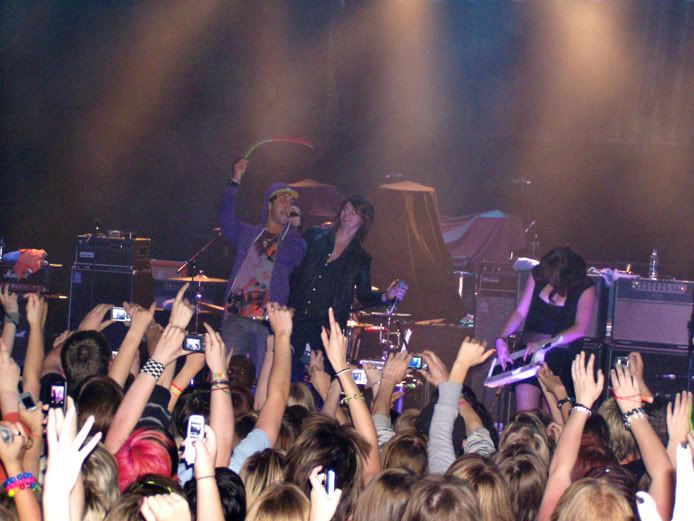 ...and then travie...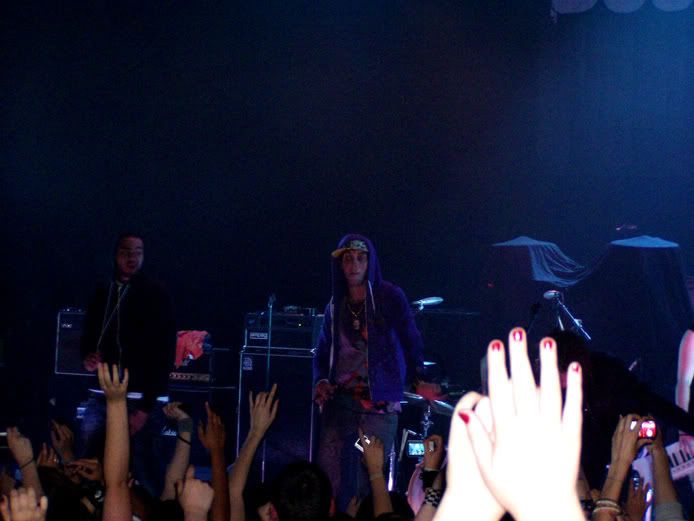 ...therefore we had SUPERGROUP. minus maja of course D: you win some you lose some.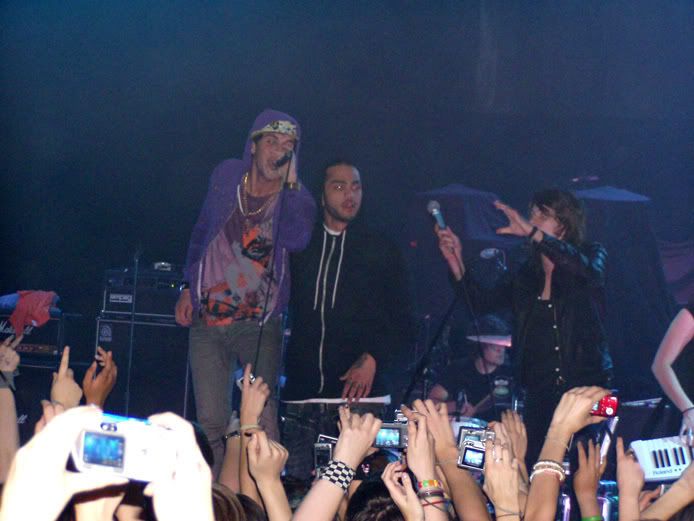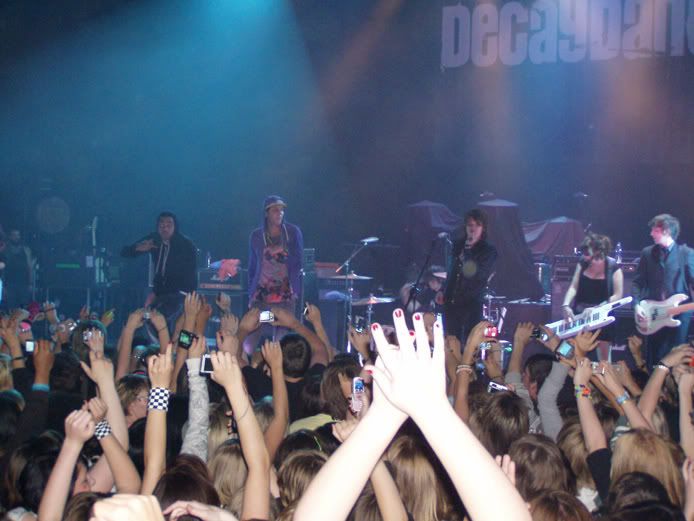 the academy is came on and i was so excited. during the break, meg went to the toilet and i held the fort. these disgusting girls came and stood next to me thinking they were oh so cool because their hair was ratty and matted and they were old enough to drink. wtf? well done guys. then meg came back and we bitched about them together.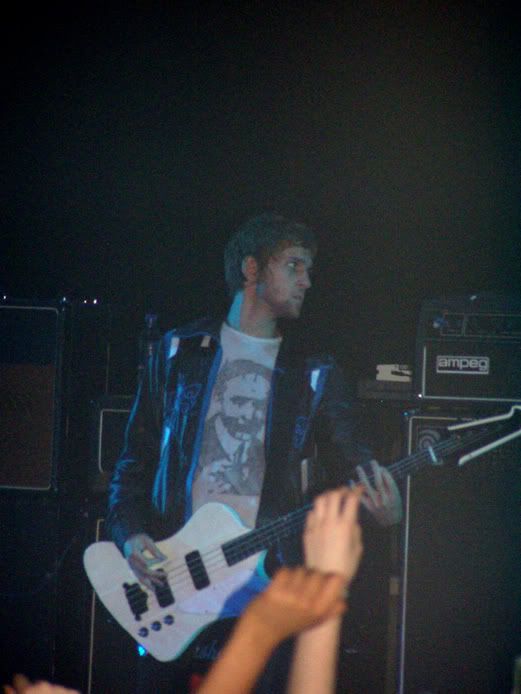 siskyyyyy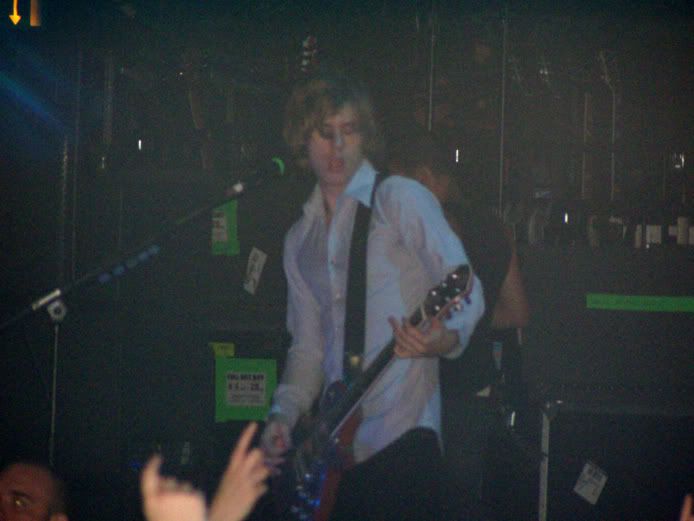 michael was too far away for me to get really good pictures. but more about him later. it more than made up for it.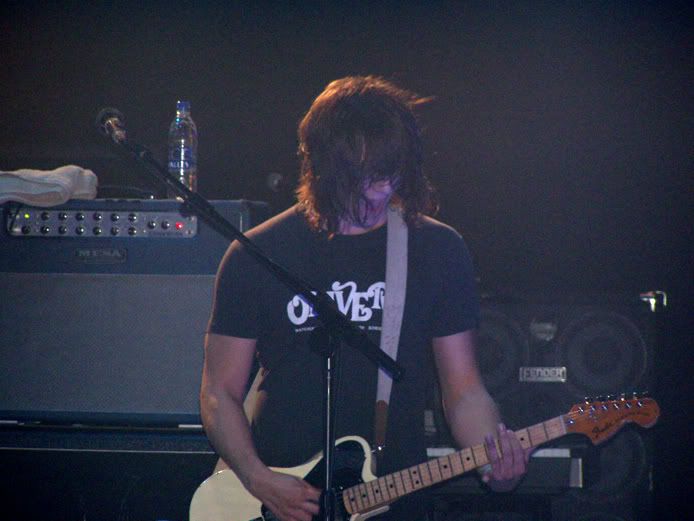 carden and his rockstar hair. dedicated to
geraldway

beer belly!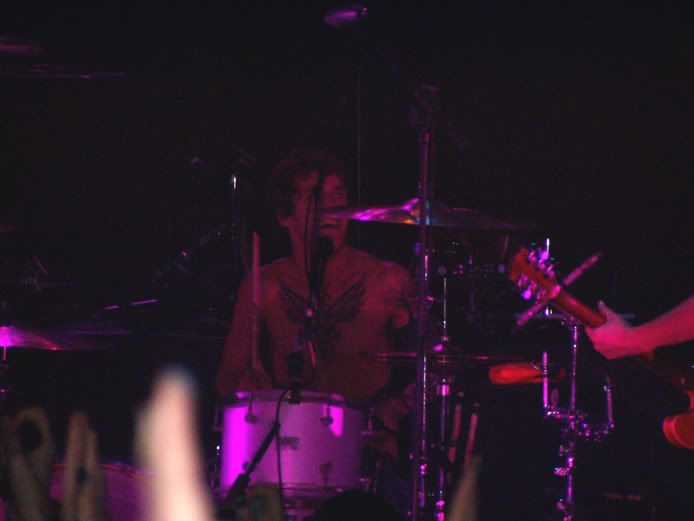 the bloody cymbals kept getting in the way!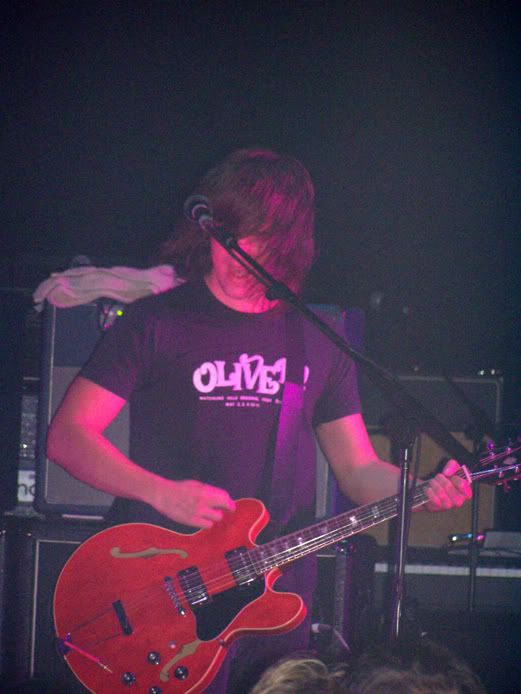 lmao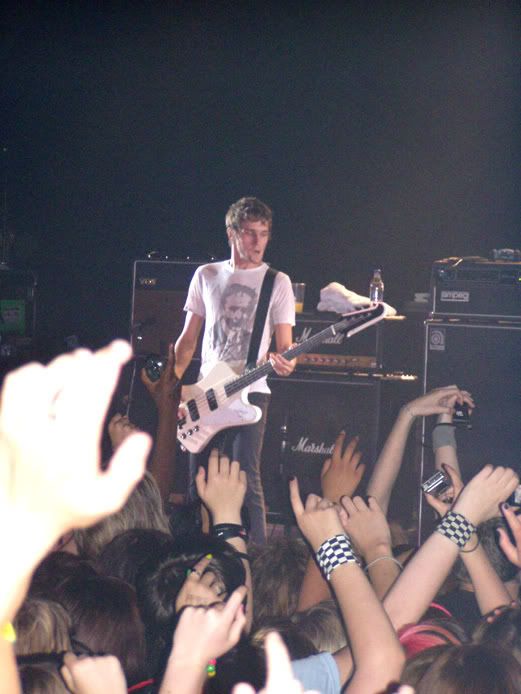 during neighbors, sisky did that thing he did during the aol sessions version of it.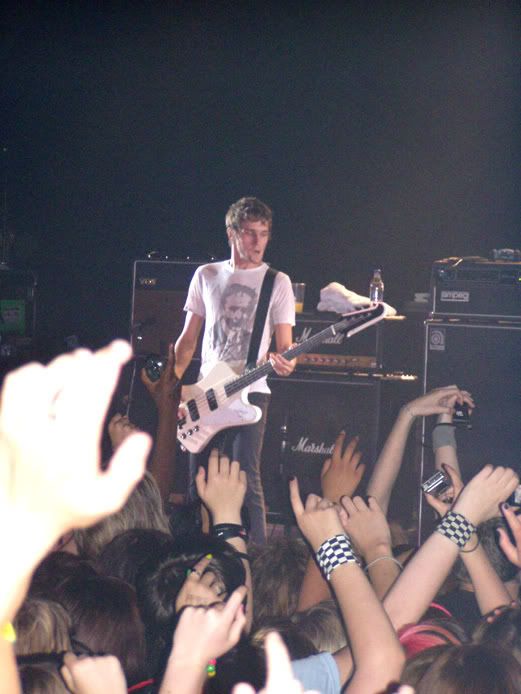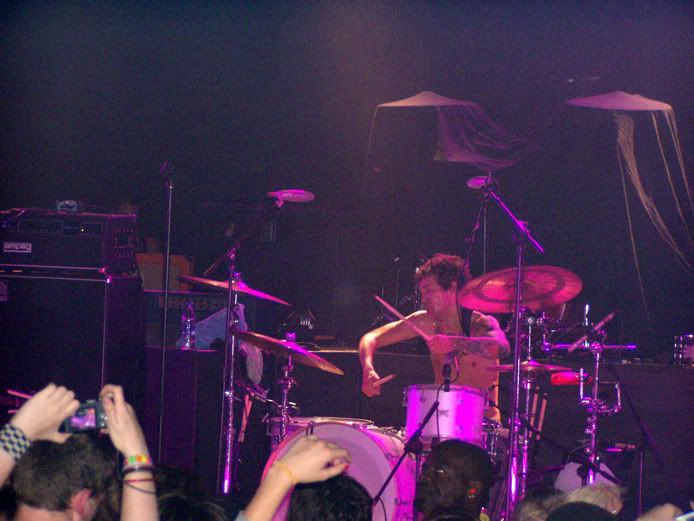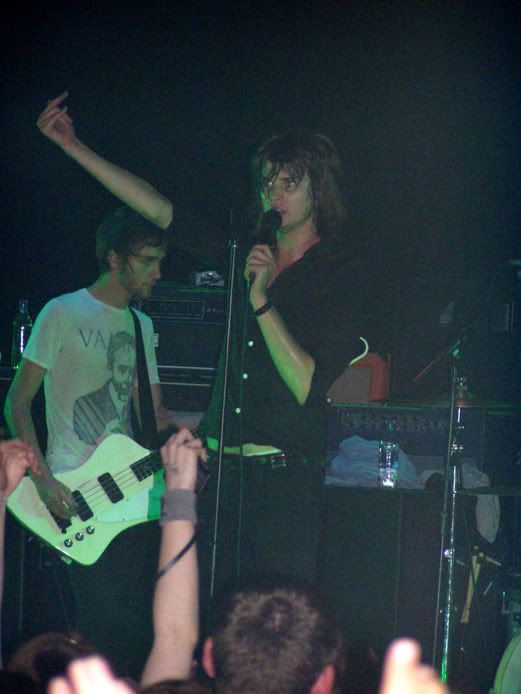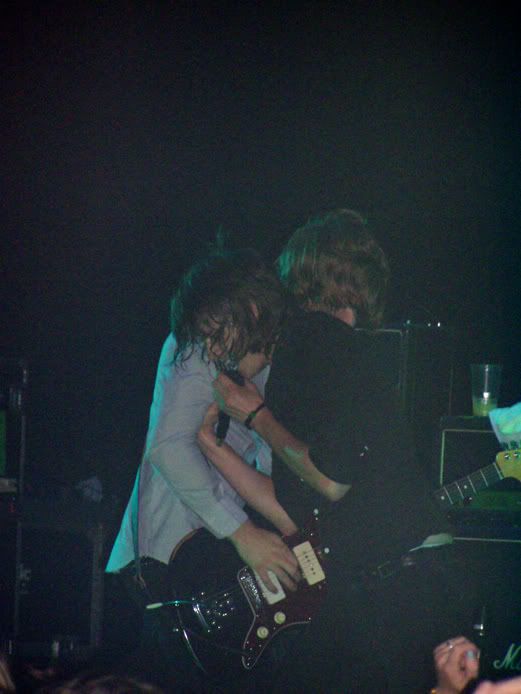 chizz and bill manlove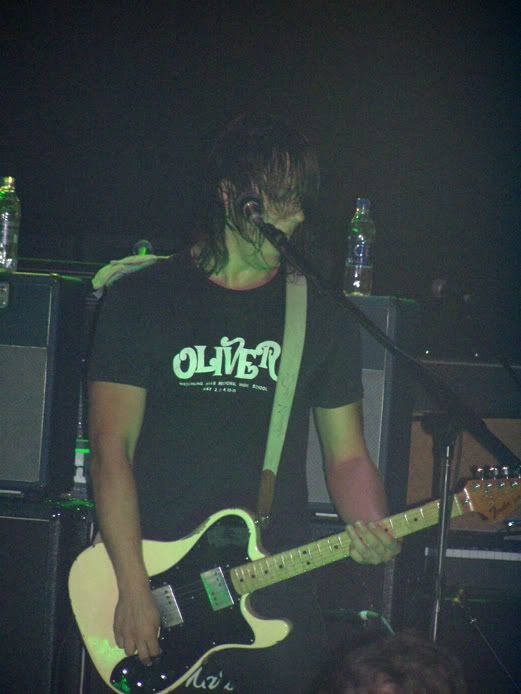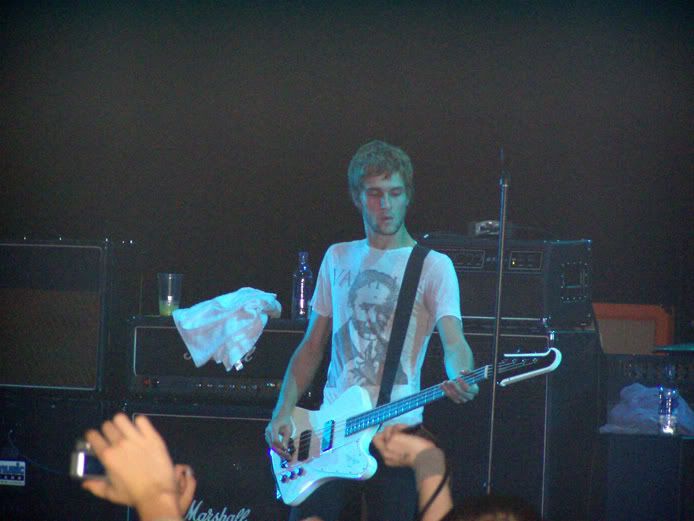 i had to finish with sisky, as he is my major love.


cobra starship and the academy is only got half an hour each D: gym class heroes were up next and they got forty minutes. towards the end of their set, a guy came out and told them to wrap it up quickly :/. they played beautiful girls which turned out to be an amazing singalong.
i didn't take as many pictures of gym class, because i already have two much better sets of them.



travis' shirt said 'who is eugene montross?'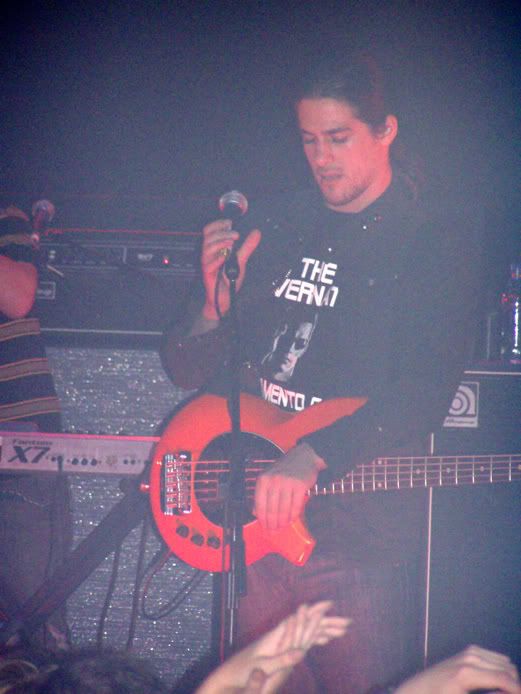 some eric. also for
geraldway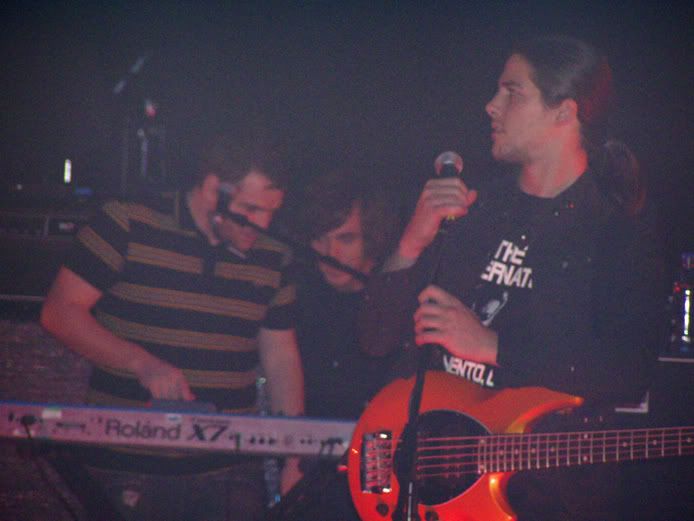 this picture is so weird. pictures of tyler for
_jazzfairy.



i <3 disashi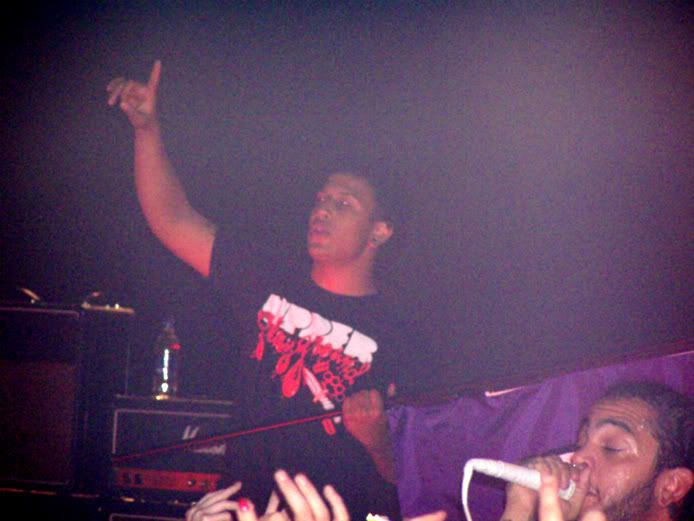 i also love dejesus. and his mini fro.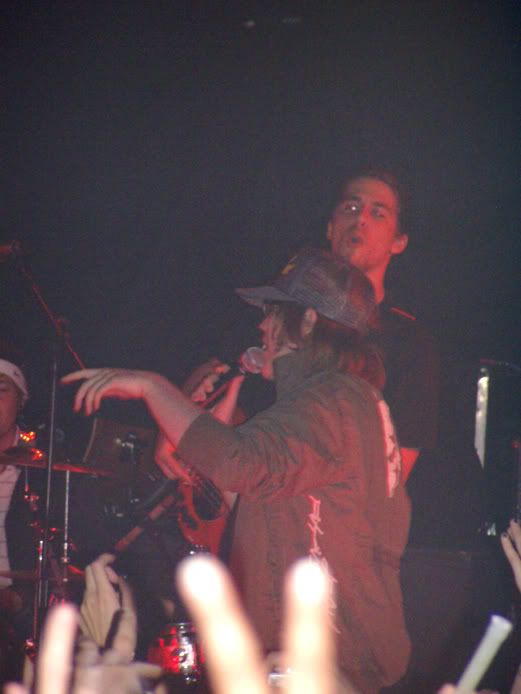 p-stump came on for cupid's chokehold.




during clothes off! the best moment of the entire night happened. these two men came on stage in hoodies with the hoods up. i could tell that one of them was obv dirty so we knew something crazy was about to happen. then to our amazement these two guys starting stripping. the other guy unzipped his hoodie, i caught a glimpse of a brightly coloured chest piece tattoo and that was about the time i went insane because the butcher was stripping on stage in front of my eyes. dirty also stripped but ew, seriously. and on later inspection of my picture of the debauchery, it turned out travis had unzipped his pants in some sort of contribution.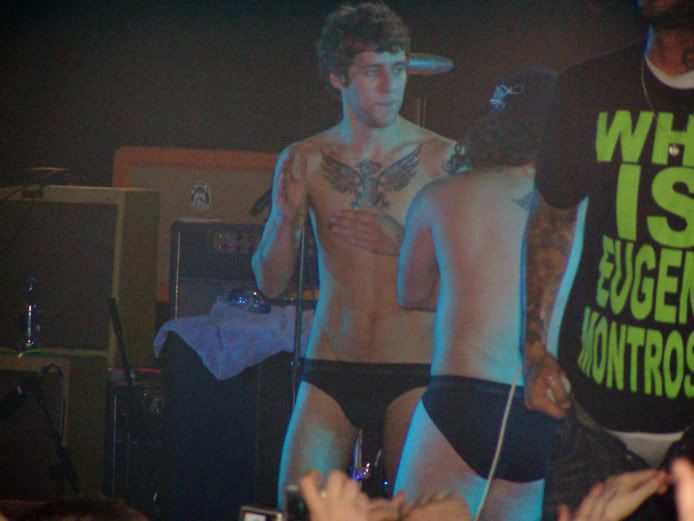 oh butcher. this is for
x_anthems. and also for myself.


then it was panic! at the disco. they played two new songs and looked like cowboys. they actually banter on stage now and ryan talked quite a lot. i liked their performance but i also felt quite sad/nostalgic/tired/idk about it all. jon walker is adorable.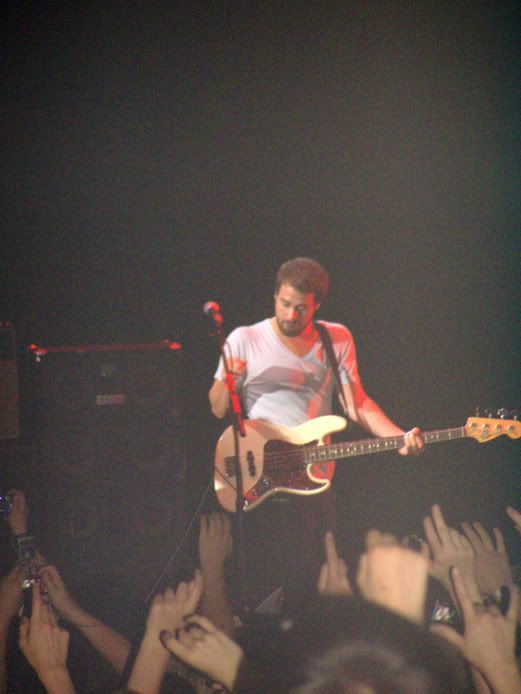 also for
_jazzfairy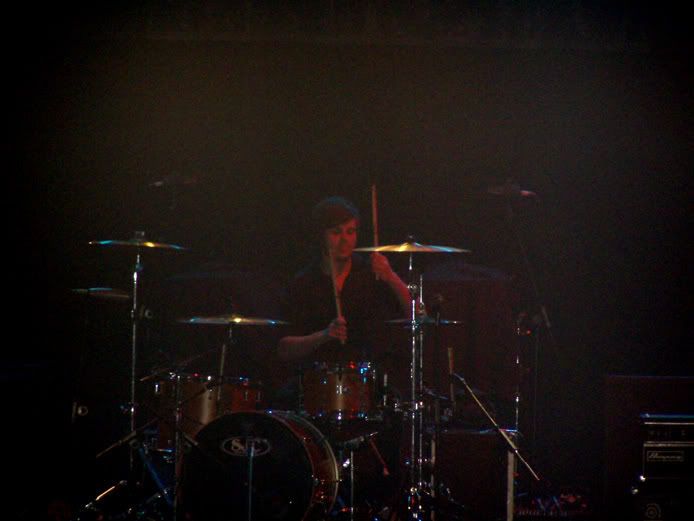 oh hai thur spencer, i almost didn't see you in the distance.



lol mosh.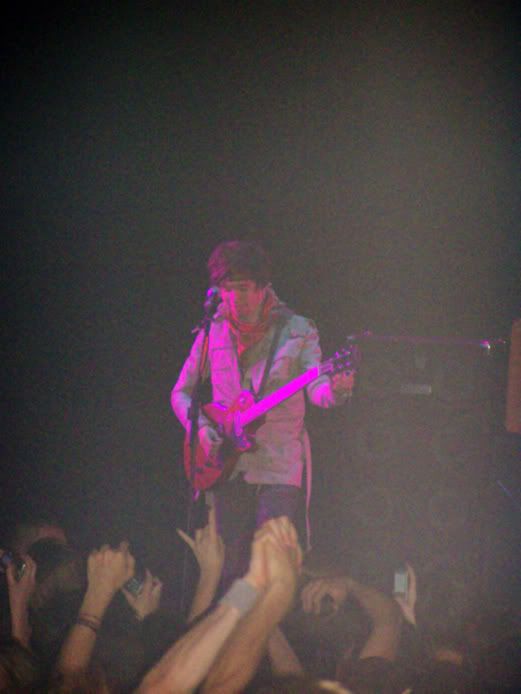 for
youneverchoke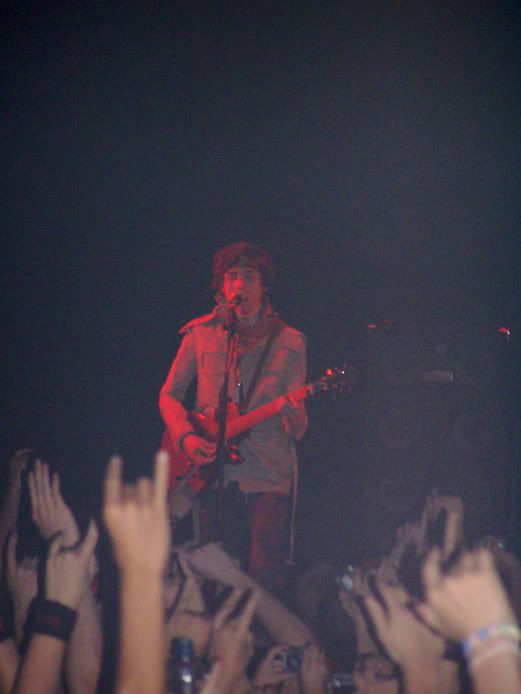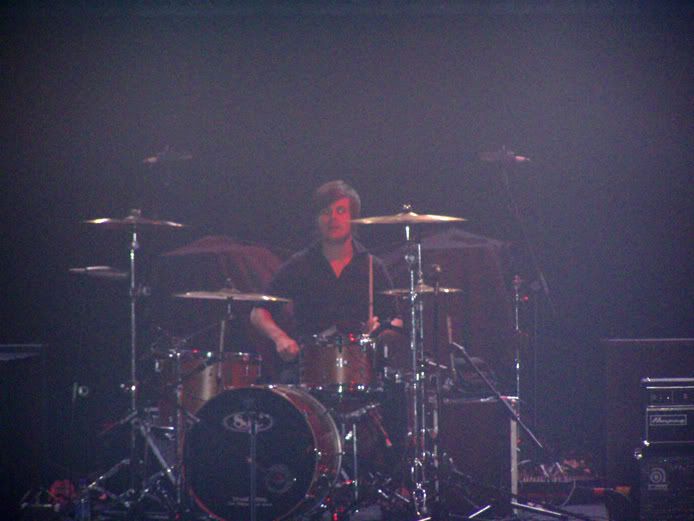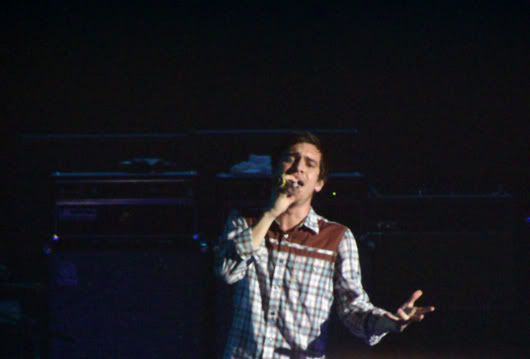 aww.
reinvent, he is obv singing right at you here.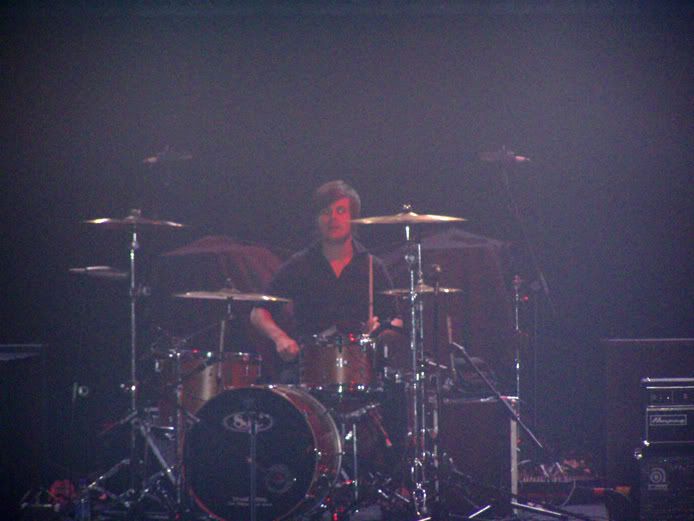 when panic! at the disco came off, there was forty whole minutes until fall out boy were due to go on. this made me mad because why did fall out boy get forty minutes for their roadies to set them up when the other bands got like five minutes? they could have shared that time out between cobra and tai! but about fifteen minutes in, all my questions were answered. dirty came on stage (clothed again thank god) and announced a special guest. it was only bloody tom from plain white t's.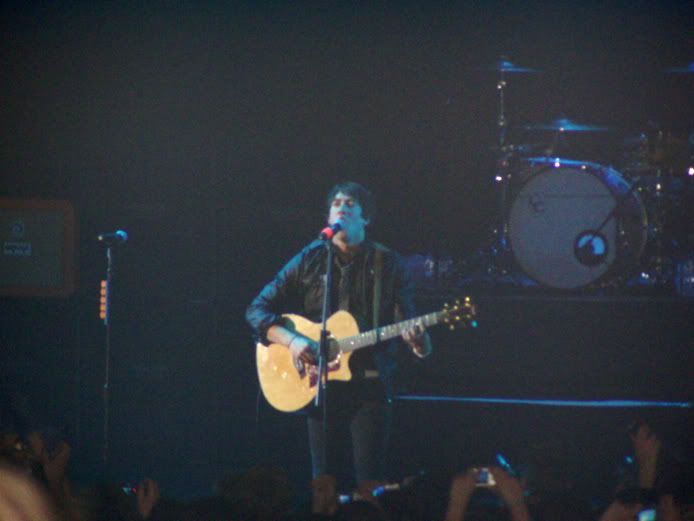 he came on with his acoustic guitar and performed hey there delilah. the whole sang along. it was actually really lovely.


during this break between bands, me and meg went out to the toilet and went to the bar and spent stupid money on drinks. then we went back inside and michael guy chislett was stood in front of me. i was actually quite speechless and stood behind him for ages wanting to say something but not knowing what. then jack the camera guy turned up with his camera. and that was it, i couldn't wait any longer. we chatted about tai tv, names rhyming with stupid things, protesting against boredom (we told jack about bus driver who shouted at the queue 'WHAT IS THE DEMONSTRATION FOR!'. he laughed a lot.), and also how shit the weather is here compared to australia. jack said he didn't mind it and it made him want to curl up with some soup. awwwww.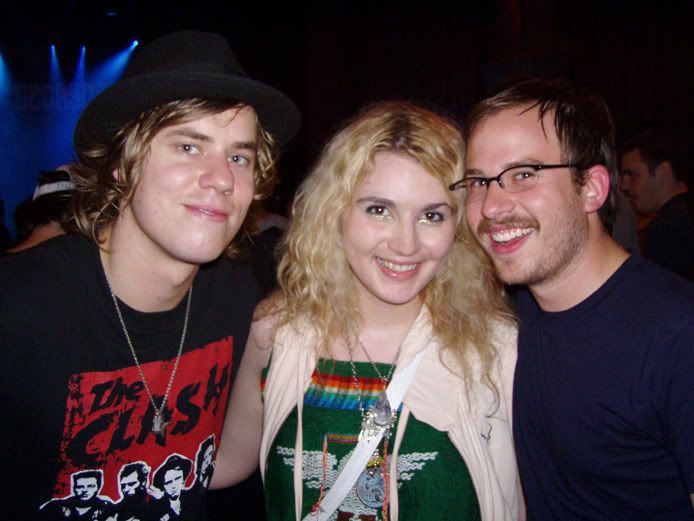 i was lucky, lucky, lucky :D.

then fall out boy came on. i was so tired. i sang along but i just wasn't into it that much. i did like their cover of beat it and also the way they played akon and then took it into ignition by r kelly. oic what you did there p.stump. i took some pictures of joe trohman because he is my favourite mountain man.

</a>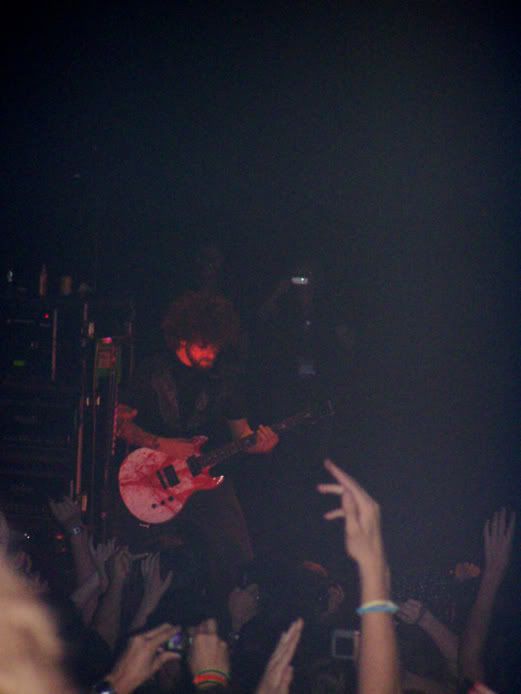 afterwards we only met dejesus. the rest got whisked away in blacked out cars to the after party. gabe and travis came out but the swarm of people around them was too much for us to be bothered with. dejesus was so drunk, he said 'I AM SOOOOOO WASTED' and put his head on my shoulder, so i copped a feel of his mini fro. it was lovely. he invited us to china white but it was too far away for us to go and there was no room in the last car.

there was also a pete wentz lookalike who thought meg was cassie from skins and took a picture with her so he could put it on myspace lmao. i tease her about it mercilessly.

there was a really creepy man on our way back to the hotel, so we crossed the road and legged it lmao.

edit; I FORGOT TO MENTION MY EXCITEMENT ABOUT THIS PROVIDENCE SUPPORTING PARAMORE IN SEPTEMBER BUT ALSO MY SADNESS THAT NEITHER
x_anthems OR
geraldway ARE GOING AND I WILL BE STUCK WITH TWO LADS WHO ARE THERE TO OGLE HAYLEY.