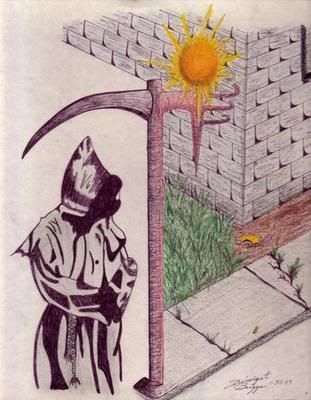 I drew the above picture.

My Death Fantasy
written by Dazz
The sky is dark, yet filled with the full moon's mystical light. I am in a small grey stone cottage near the lake. Surrounded only by nature and wilderness. As I lay naked atop my deep blue satin sheets, through the open windows I hear the waves gently crashing upon the pebble laden beach, the hot humid breeze whispering through the nearby weeping willow trees, and the crickets gleeful chirping from the fragrant rose garden.
Suddenly, I am startled by the sinister cry of a wolf in the distance. I can no longer hear the crickets, for there is now no sound, all is totally silent. A rush of cold air begins to fill the room, and the candles upon the nightstand begin to rapidly flicker. My breath quickens with fear. I am no longer alone in my sanctuary. I close my eyes and take a deep breath, afraid of the presence I feel.
The cold is all around me now. My hair is up on my head in a long ponytail. I feel cold soft lips upon my right ear, and a cold tongue tracing its way around my ear lobe. A chill runs down my spine as goose bumps rise upon my flesh. I am still unable to open my eyes. My heart is racing and I feel so very weak. At the same time I also feel massive desire for the lips now traveling down my neck. I manage to lift my hand and I feel long silky hair around a face that is smooth and cold to the touch.
Somehow I manage to slowly open my eyes. I look up into the most beautiful dark eyes I have ever seen. They seem to penetrate right through me to the very soul of my being. This is the most breathtaking man I have ever laid eyes upon. His hair is as black as the darkest night. His face pale and perfect. He is wearing a black cloak and has the staff of death clutched in his left hand. I watch him as if in a trance as he props the staff between the wall and the bed post, and he gently sets upon the bed beside me. His eyes never leaving mine. He takes my left hand, small and warm into his large, strong cold hands. He lowers his head still looking into my eyes, and he begins kissing and licking my fingers one by one.. I feel a sharp pain on my bare ring finger. He cut me deeply with his tooth. He licks the blood from my finger then sucks it deep and hard into the coldness of his mouth to stop my blood from flowing.
I want to say something to him, but I cannot find the words nor my voice. He pulls me to him and his black cloak seems to engulf me. He presses his lips to mine, kissing me so passionately. I cannot catch my breath. I need to stop kissing him so I may breathe, but I desire him so much that i cannot pull away. He flips his cloak back exposing his flawless pale skin and he consumes me with his ice cold passion. As we make love, my insides become so very cold that I burn. My breath slips away more and more with each plateau of my orgasm.(I know everything now..for his name is Azrael) As I am carried away further into such a feeling of intense pleasure and gratification I realize I am losing myself to him... to death... but I am enjoying every single moment of it. As it all begins to subside, I am able to make a small whimper of delight, then I am gone from this earthly world... And I am no longer alone.......
Current Mood:

productive

Current Music:

Cradel of Filth "One Final Graven Kiss"