Hey my dear spamming fangirls! :D I gotta say I lolled when I saw how much attention my last nights post got and still gets. I dunno even what to reply most of the comments! Haha So I thank everybody in this post for the comments!

This is where I melted...

I Just finished watching the episode for the second time and I hope I can write something else than "OMG" or "Squee". So here we go:D
*So Naomi is the one NOT wearing pyjamas! LOL
*Ewww for Naomi hanging with the teacher who finally kissed her...E-W-W and btw why did Naomi went to him?! I just can't get any good reason on my mind.
*YAY for Emily keeping Naomis side! Made me SQUEE so hard!How did it went.."Cook can you be cunt somewhere else?" NICE ONE EH EH EH....
*This episode had lots crying and I don't like when Ems and Naomi cries. It's just too hard to watch :(
*THE LAKE! DO I NEED TO SAY MORE?! THAT WAS DAMN HOT! haha I was like OMFG it's going to happen NOW! OMGOMGOMGOMGOMGOMGOMG HAHA I fail so bad that I watched "Behind the scene" first...After it I was so hyper lmao Ask
yeahbytheway
lmao
*OH almost forget all the sex talk at Naomis! I squeesed SO hard. How awesome is this pairing?! LOVE THEM.
*AND aaaaaaw for Naomi in the morning when she woke up Ems beside her on the bed ^^ I was like touch her!toooooouch heeeeer!!! xD And then she did ^^
I hope I didn't forget anything major...lol When I still can I stop writing now lmao
edit. One more gif :D
edit. OKAY OKAY let's make it 2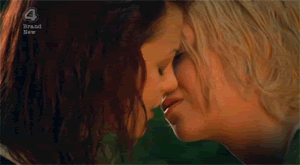 edit. Somebody please stop me xD