It's over~.
Today's Den-O, did you see it??
I'm pleased with today's broadcast and the first new scene was, as expected, the first temple visit of the year scene.
Deneb's special hakama is great I like it a lot.
It's bright green! Nice, isn't it?
So then, these pictures were taken by Ken-san.
Here are two pictures of D-Sakurai.
Feels like I've become kinda sexy, though... (laugh)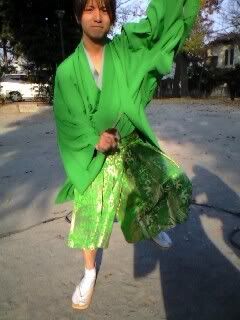 Here's my first translation. I'm going to x-post this in D-Boys communities and HOPEFULLY I'll get some feedback.
January 7 2008
Current Location:

home

Current Mood:

blah

Current Music:

Nakamura Yuuichi and the guy who voices Deneb - Action Zero