Medium
: Television
Fandom
: Heroes
Subject
: Onesided Kensei/Hiro; Adam/Hiro
Title
: Almost Done Screaming
Warnings
: Spoilers through Volume Two
Notes
: If you would like an individual song uploaded please comment with the song and server you want it uploaded on. Thank You! The Cover Art is previewed under the cut and provided larger with the mix. Again, made with my loving Comic Life~!
Well, here is a Kensei-centric Kiro fanmix. It deals with Kensei's feelings towards Hiro and how they warped over time. So... Muha. Onto the mix.
Cover:
Back: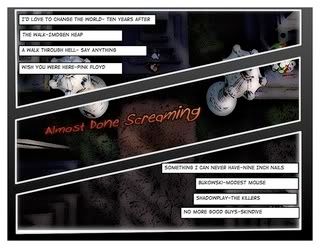 Almost Done Screaming- A Kensei/Hiro Fanmix1. I'd Love to Change the World- Ten Years After
I'd love to change the world
But I don't know what to do
So I'll leave it up to you
When Hiro first came, Adam was more set on becoming rich than actually changing the world. As great as it would have been, it sounded like something that was too high for him to reach and he would rather have Hiro do all the work for him.
This mix starts off upbeat, as Kensei is reather cheerful, carefree, and cheeky to start.
2. A Walk Through Hell- Say Anything
And I'd slay the horrible beast they commissioned
To steer me away from my mission to your eyes.
And I'd stand there, like a soldier, with my foot upon his chest,
With my grin spread, and my arms out, in my bloodstained Sunday's best
After Adam realized what he could do, he bent to Hiro's every command and whim. He did anything that Hiro claimed needed to be done with out a question.
Again, upbet due to the fact that Kensei is on top of the world and hasn't lost his faith in humanity yet. This is the point that we see Kensei at his happiest.
3. The Walk- Imogen Heap
It's not meant to be like this.
Not what I planned at all.
I don't want to feel like this.
Yeah.
No it's not meant to be like this.
Not what I planned at all.
I don't want to feel like this.
So that makes it all your fault.
When Yaeko and Hiro kissed, Adam was devestated because Hiro betrayed him. He blamed everything on Hiro, who was essentially his savior. He seems to almost disreard Yaeko and focus on Hiro's betrayal. It is this that continues to drive him and also the end to their friendship.
The music starts to take a turn for a darker scheme.
4. Wish You Were Here- Pink Floyd
And did they get you to trade your heroes for ghosts?
Hot ashes for trees?
Hot air for a cool breeze?
Cold comfort for change?
And did you exchange a walk on part in the war for a lead role in a cage?
How I wish, how I wish you were here.
We're just two lost souls swimming in a fish bowl, year after year,
Running over the same old ground.
What have we found?
The same old fears
Wish you were here
The only thing that Adam is driven by is his need to interact with Hiro. Without Hiro, Adam simply acts as a mercenary and waits for his chance to meet Hiro again. His view of Hiro warps from inspiration to obsession.
The music is very repetitive, showing how Kensei's days just meld into the same repetitive and predictable schedule for the next three hundred years.
5. Something I Can Never Have- Nine Inch Nails
You always were the one to show me how
Back then I couldn't do the things that I can do now
This thing is slowly taking me apart
When Adam founds the company, there is really no turning back. By setting it up, he hopes that he will be able to find Hiro again. Due to what Adam has done, however, Hiro has become someone that he can never obtain.
The melody begins to twist to something dark and desolate. At this point, Adam has been waiting for a ridiculous time in order to meet Hiro again.
6. Bukowski- Modest Mouse
If God controls the land and disease,
keeps a watchful eye on me,
If he's really so damn mighty,
my problem is I can't see,
well who would wanna be?
Who would wanna be such a control freak?
Adam began to think of himself as God, I'm sure after abandoning his belief in an active God when seeing everyone die around him from disease and aining no help. He assumed his own abilities made him above everyone else and closer to God than any of them.
This song's melody is warped and demonic, the state of mind that Adam has assumed.
7. Shadowplay- The Killers
To the centre of the city where all roads meet, waiting for you
To the depths of the ocean where all hopes sank, searching for you
Moving through the silence without motion, waiting for you
In a room with a window in the corner I found truth
All that Adam is driven by is his need to be close to Hiro and destroy him. By this point, Adam's mind has become completly and bitterly wraped around the idea of being close to Hiro again and becoming his obsession again.
8. No More Good Guys-Skindive
I I died today,
but I'm still breathing,
bleeding,
for now,
I'm broken.
You left me here,
Capsized and sinking,
thinking, right now,
there's no more good guys.

This is based on the quotes from the show, "Only to have you become a villian." Hiro said. "I learned that from you." Kensei claimed.
It was then that Hiro buried Kensei alive, leaving him to spend an eternity on the brink of death. Some might say that this is crueler than the mercy of death.
Download Zip of All Songs-Download: http://www.megaupload.com/?d=38PQ70MU
http://www.mediafire.com/?9db9tdk4jmx
Comments are Love! (Man, I've been working on too much Kiro stuff the past few days... I should do something like Web Work... Yeah...)
~Ame
Feeling:
accomplished