hey!
yesterday I coooooked! Melissa visited my dorm! then Mary! and she brought ice cream. We went up to 96th st to starbucks to see if homeless matt was working but he wasnt but we got free coffee. and then we walked down to 86th, said bye to melissa <33 then walked to 42nd. YES we are awesome walkers. and awesome talkers. cause we talked alot!Then passed the f out. way early.
Today I met up with EMMMA and we walked around soho. they were making us try out this fragrance, so when we ent to get samples they had apples as part of the display and I was like.. hey so whatcha doing with those apples. and they let us take one each and eat them yay! Walked back to fulton a few hours after wandering and shopping and craziness. Met Mary, me her Emma Cindy and Sue had a crazy awesome time getting ready. We all looked so hot.
Went to Jennyyys! yay! Had awesome vegetable fried rice. Emmas friends from highschool joined us, Eric, Sean, and Cory. They were nice, they liked to sing acapella alot. hahaha. So we ate and laughed and wrote each other notes across the table and then walked down st marks. Wanted to do karoke but it was way expensive. Maybe one day where we dont buy food. haha. uh. I saw Tyler which was random. Then I called Tim and told him I had 7 people with me, and he said it was ok and we can go to this party. So we went to Willamsburg and ta da! Denny and Jenns old roomate Lianna were there! haha. It was really chill and nice. We didnt get there until like 1 though so that might be why it was kinda quiet. We hung out on the roof for a while. It was fun! I like meeting people and socializing. Tim seems like a cool guy too. and Im so happy I saw Denny! OH and Emmas friend Sean apparently knows Quantice Never Crashed through his brothers band and then being on Maryland University radio so thats pretty sweet. He really wants to come out and see them too!
Anyway I leave you with some pictures....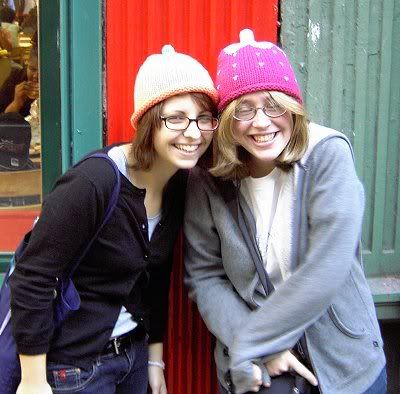 yeaaa emma and i bought matching caps today!
(
check it!
Collapse
)
more to come tomorrow from Sue.
[<3]