yeah that's right. i hit on all of you via my subject line. sup?
umm okay i'll stop the drug use now. THIS is going to be one hell of an entry, i can promise you that. whether or not you wanna read is up to you though, cause half of it is pure venting - but not the angry type. give it a chance? k i'll stop selling it now.. here goes.
#1 - my future is so messy and i just need a place to pour out everything that i'm thinking of it. i was at the store shopping for food & other assorted goods today with my mom for bing and i can't believe how much i'm dreading it. i actually started to feel so sluggish and upset i didn't go to the gym. i ended up running to make myself feel better, but it like drained me. it isn't even the fact that i know there's going to be drama of many different sources in my suite - nothing against you girls but there are six of us living in one small space and at least three of us (including me) are brutal and bitchy and don't give a rat's ass about burning bridges. other than that, there's the typical guy shit, the freezing ness, the whatthefuckistheretodo thing, i don't want to go to the typical bars on friday nights and deal with sleazy seventeen year old guys groping me on the dance floor.. i'm just like flat out dreading it. i'm already planning my first extended trip home, how sad.
PS meg we can't be bing mets groupies unless we really want to be dirty ass hoes- they're all like washed up 30 year olds.
in good news, my parents said that if i'm really unhappy there, they wouldn't mind paying for any college i decide to transfer to, meaning NYU could actually be in my future. i'd be okay with living at home for two years, cause it means i'm going to school in the city, and we all know exactly how much i adore the city. then they'd help me pay for grad school and living in the city for that, i'd obviously be working but bartending or waitressing can't pay for everything. so next semester, i think i'll spend a lot of time on road trips and also hitting the books like your mom hits her crackpipe. i'm only taking 12 credits so it shouldn't be too bad.
i guess i'm a sophomore so it's okay that i'm not too sure what i want to do. and i had a really good talk with my mom cause i've always loved writing and been good at it, but i never wanted to be an english teacher, and i realize that journalism is a good route for me because all i need to do is find something that i'm passionate about (helloooo sports!) and i can write for fucking ever.
ANYWAY this is all probably exhausting for you people because who the fuck really cares about my future?
yo, danny almonte is my age? that crazy 14 year old pretending to be 12, what a bastard. i hope the mets sign him.
why does sportscenter do the 50 in 50 all over the fucking place? like, why not go california -> new mexico -> nevada , etc.. instead of pennsylvania -> colorado? you fucking idiots, i hate you sometimes.
it's really funny to see how people change, physically, cause i've noticed that boys i hook up with get really disheveled and do silly things when it's all done. and what's my deal with baseball players? i was looking through sack's yearbook today and i looked at the varsity & JV (we were freshmen when he was a senior, give me some room here) baseball teams and i was like "hmm hooked up with you, hooked up with you, want you so fucking bad ahh" .. and that's from a baseball team that's not really good looking or good at all. oh man and i totally didn't mention this but like a week ago at the beach i totally saw my high school crush that played baseball and jesus effing christ the boy is still gorgeous (and probably still super duper sweet). loveeeeeee it.
i found out that i'm like huston street in a lot of ways. well okay, not at all. i read his latest abortion of an article on espn.com and it's all about routine, and i really like routine. like, it sucks that now i have to leave home and get back into the groove of things up in binghamton, and i know i'll be far too lazy to ever go to the gym. anorexia where you at? mm yeah no. kickboxing will motivate me.
julio franco is 47, sup?
oh and i was getting undressed and whilst taking off my spandex pants i noticed a little silver mlb logo sticker that was on my green mets visor that must've fallen out of my bag and landed square on the spot i want a tattoo on my hip.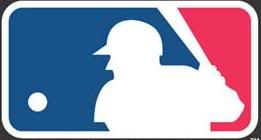 a sign? i think so.. i just want a cuter version of it.
oh and just to be totally random, freddy garcia should bomb the chisox for losing a game in which he gave up one hit, and DW should be renamed to jesus wright because he is so good it's not even funny. he also looks totally suicidal whenever he's on the road. cheer up dwright! new york is good and new york loves you and yeeeeea idk maybe that's just me.. i'll stop babbling.
hmm my ADD is pretty spent. i am le tired. i am le going to sleep. g'night much love! ♥♥