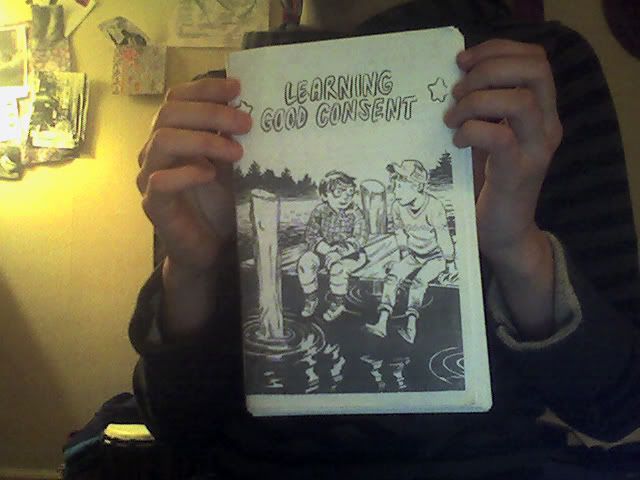 I've had this zine for a while now. I think it's pretty common at book fairs and infoshops - at least in Southern Ontario.
Here's what the back says:
NO MEANS NO
"Not Now" means NO
I have a boy/girlfriend means NO
Maybe later means NO
You're not my type means NO
Fuck off means NO
I'd rather be alone right now means NO
Don't touch me means NO
I really like you but... means NO
Let's just go to sleep means NO
I'm not sure means NO
You've/I've been drinking means NO
Silence means NO
This zine deals with consent in a sexual realm for the most part, but consent should be exercised in all parts of life.
Learning Good Consent also has a shitton of questions that I've been meaning to answer for myself for a long time. I'm going to type them all out here so that I can remind myself, and also so that perhaps other people can think about what their own answers might be.
These questions were somewhat triggering for me because they reminded me of some ways in which my consent has not been respected in the past. They were also difficult to read becasue, while doing so, I was able to dealve deeper into reflections on how I have done some shitty things before. It's hard to think about both of these things, but I think really important for me.

So, just a heads-up:

The following may be triggering.




(
Consent Questions
Collapse
)