Sharing this one because someone at
anime_downloads
requested for it. Will be uploading the second batch tommorow.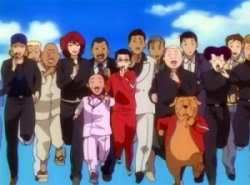 Age rating:
Teenagers (May contain bloody violence, bad language, nudity)
Genres:
Comedy, Drama, Shounen, Slice of Life
Plot Summary:
Kumiko "Yankumi" Yamaguchi enters Shirokin Gakuen Private School to become a math teacher. She's assigned as the homeroom teacher for class 2-4, populated by a gang of delinquents. At first, the class tries everything to rattle her cage, but to no avail. In a short period of time, Yankumi gains the respect of the class. But what the school doesn't know is that she's the heir to the Oedo Group, a powerful Yakuza clan. So while Yankumi struggles to excel in her career as a teacher, she must also keep her Yakuza background a secret.
Running time:
24 minutes
Number of episodes:
13
source:
AnimeNewsNetwork
(
Download Links
Collapse
)
Comment if taking. And tell me if an MU link's expired and I'll gladly upload it. Won't be re-uploading to SS though.
cross-posted:
anime_downloads
,
anime_uploads
,
shinkumi