Hotlink time...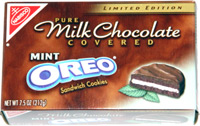 OMG!! Go out right now and buy these cookies!! I'm not joking. They are AMAZING and are serious competition for the Girl Scout's Thin Mints. They're good with tea and ice cream and Coke and milk and...everything.

The only bad thing is that they're hard to find and there aren't enough in the box. I get the feeling I'll be headed back to the grocery store before Friday.


Lol @ me for writing about Oreos instead of doing laundry. I'm down to a pair or leggings and a tank top. I need to stop eating cookies and wash clothes.