Cracked.com: 6 Douchebag Luxury Goods Originally Invented to Help People.

Cracked.com: The 6 Strangest Ways Anyone Was Ever Mistaken for a God.
Also:
Cracked.com: If Awesome Lunatics Ran Airlines.
WARNING: YOu might hurt yourself laughing at this.

Actual headline: Police search for Moron

Remember the famous Banksy Simpsons intro? Here are the original storyboard sketches from Banksy.

German Police Pick up Drunken Owl.

USAF enlists omnipotent intelligent war blimp in Afghanistan.
Prediction: civillian use imminent.

Toilets in Japan fitted with urine-controlled games.

The Doody family eat faggots twice a week. Wait, what?
FTA:
"The Doody family from Wolverhampton has been crowned The Faggot Family in a national competition, and to kick off their reign they will launch National Faggot Week."

Panasonic Ships A Snowman 8,000 Kilometers to the Desert, Unrefrigerated, In a Cardboard Box. It survives intact in one piece.
"Using no refrigeration, a snowman made in Japan traveled 5,314 miles to the desert of Bahrain, surviving the journey in one piece. The feat was a nice test of Panasonic's new vacuum insulation panels, called U-Vacua, and a clever stunt that produced squeals of joy from a bunch of Bahraini kids."

Swiss banker who gave Wikileaks details of rich tax evaders has been found guilty of breaching Switzerland's strict bank secrecy laws.
"Elmer, 55, who ran the Cayman Islands branch of the Swiss bank dedicated to wealthy clients until he was fired in 2002, spent a month in investigative custody in 2005 when the charges were first made against him. "I am a critic of the system and want to tell society what happens in these murky oases," he told a news conference before the verdict."

An interview with a woman that swings babies for a living.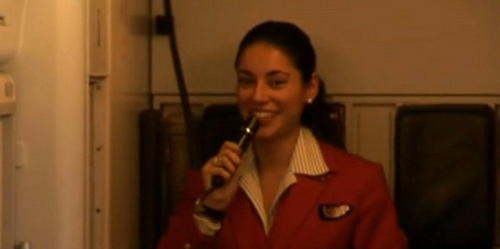 Man Proposes to Flight Attendant Girlfriend on Jetliner PA. With Video.
"Joao Vieira wanted to propose to his girlfriend, Portuguese flight attendant Vera Silva, in a memorable way. So he booked a flight on which she was working. He worked with the pilot and flight crew so that he could get on the plane's public address system and propose marriage to her. After a moment, she turned on a microphone from the opposite side of the plane and said yes. You can watch a video of the proposal at the link."

When it comes to predicting Apple's financial performance, the amateurs are easily better than the pros.
"The Challenge: predict seven key metrics of Apple's fiscal success over the past quarter -- such as sales numbers, profit margins, and gross revenue -- with the highest accuracy. The Competitors: In the blue corner, a bunch of amateur finance bloggers, and in the red corner, a cabal of professional analysts making mad dough at banks and trading houses. The Conclusion: whatever you're paying for your "expert" advice on the future financial wellbeing of Apple, or any other tech stock for that matter, stop. Just... stop."

Actual headline: Colombia police catch drug-smuggling pigeon.
"The bird was trying to fly into a jail in the north-eastern city of Bucaramanga with marijuana and cocaine paste strapped to its back, but did not make it. Police believe the 45g (1.6oz) drug package was too heavy for it."

Boy George returns pilfered Christian artifact to Cyprus.

The world's most epic beer run.
"A convoy of extreme truckers conquered snow, 250 traffic lights, and 1,614 service wires to move six gigantic one-million-bottle capacity fermenting vats from a German ship to the Molson Coors Brewery in Toronto."
Malaria caught on video breaking and entering into cell.
Gabby Giffords (inD-estructible) is able to stand up. Suck it Teddy "I got shot in the chest" Roosevelt [Hero]
Headline by Fark.
Cop rapes transsexual prostitute while on duty, pleads sentence down to just 1 year.
Bonus:
"Two days after the officer's arrest, a second person came forward to say he had also been raped by the officer in 2008. As part of the plea agreement, prosecutors won't pursue the second allegation, according to court documents."
Stay classy, Rush Limbaugh.
"RUSH: "Ah, never mind, we're not going to gyp Fox. I wanted to gyp it because, well, the, Hu Jintao, he was speaking and they weren't translating. They normally, some translator, every couple of words, but Hu Jintao was just going CHING CHONG, CHING CHOW CHONG CHA, CHONG CHANG, CHING CHONG CHIBABABA, OH CHONGHING CHI CHIGARAI, CHENG CHI CHI. CHING ZHA BABA CHENGA CHENG CHI CHI CHI. CHANGI. OOOOOO. CHING CHOLABA BABA. GE CHOW CHOW BA. Nobody was translating." "
A list of companies that are asking the US government to censor the internet.
"A group of companies sent a letter to to Attorney General Eric Holder and ICE boss John Morton today (with cc's to VP Joe Biden, Homeland Security boss Janet Napolitano, IP Czar Victoria Espinel, Rep. Lamar Smith, Rep. John Conyers, Senator Patrick Leahy and Senator Charles Grassley), supporting the continued seizure of domain names they don't like, as well as the new COICA censorship bill, despite the serious Constitutional questions raised about how such seizures violate due process and free speech principles."
Woman solves her own kidnapping.
"The victim of a high-profile New York baby-snatching case has been reunited with her mother after solving the mystery of her abduction herself. Carlina White was abducted from a hospital in Harlem in August 1987, when she was just 19 days old."
NYPD officers shown Muslim-bashing film in counter-terror training.
"New York Police Department officers who showed up for mandatory counter-terrorism training were shown a "spectacularly offensive" anti-Muslim film claiming that American Muslims are secretly plotting to take over the country, a news report alleged Wednesday. The news is further evidence that US law enforcement agencies are turning to extremist anti-Islamic "consultants" to provide training for terrorism investigations... 72 minutes of gruesome footage of bombing carnage, frenzied crowds, burning American flags, flaming churches, and seething mullahs. All of this is sandwiched between a collection of somber talking heads informing us that, while we were sleeping, the international Islamist Jihad that wrought these horrors has set up shop here and is quietly going about its deadly business. This is the final drive in a 1,400-year-old bid for Muslim world domination, we're informed."
AT&T, the same company at the heart of illegal NSA wiretapping on innocent American civillians, "asks top court to recognize its 'personal privacy'". Irony meter explodes.
Air Force Sargeant to spend eight years in prison for exposing HIV to multiple partners at swinger parties.
Farting gentleman made fun of at party, so he starts stabbing people randomly.
Tunisia shows us that it doesn't take an invasion and 150k American troops to bring democracy.
Tunisian FLILF Flees With Bullion.
"The wife of Tunisia's ousted president fled the chaos-stricken country with one-and-a-half tons of gold worth more than £35M... Dubbed the Tunisian Marie Antoinette, the Tunisian Imelda Marcos et cetera, she used to fly luxury foods, including ice cream from St Tropez, to her beachside mansion by private jet while her husband kept a pet tiger, which he fed prime cuts of beef."
Dissent spreading in the Arab world after the Tunisian revolution.
In LA, a brilliant example of how not to ride your bicycle.
"Five bicyclists cruising in Baldwin Hills were arrested early Thursday on suspicion of riding under the influence, according to the California Highway Patrol... None of the cyclists wore helmets and few had reflectors on their bikes or clothing, making them "barely visible to passing motorists," according to the arrest report."
Idiot drowns 11-month-old baby because she was too busy playing on Facebook, claims she wanted her son to be "independant" and not a "mama's boy".
Idiot falls into fountain in mall because she was busy texting while walking, now suing mall.
Mom "unplugs" kids from internet and media in experiment for six months, somehow lives to tell about it.
Read on to find out the surprising, or perhaps not surprising, results.
Increase in pedestrian deaths reported. Republicans blame Obama.
Norwegian child fends off pack of wolves using heavy metal music.
Clerk fights off convenience store thief using samurai sword.
With video.
Live chicken thrown at KFC staff through window.
Undercover cop marries environmental activist he was sent to spy on.
Florida cop accused of stealing marijuana bud.
The Founder of Jesus Blood Prophetic Ministry who went by the name "Jesus One Touch" sentenced to 10 years for incest & rape.
Helping Others dot org, a heart-warming site from the creators of FML.
Woman arrested for stealing $1,000 worth of stuff... from a dollar store.
Actual headline: Troops warned against using too much viagra.
About Wish Upon A Wedding: "The world's first non-profit wish granting organization providing weddings and vow renewals for couples facing terminal illness or serious life altering cirumstances, regardless of sexual orientation."
9,400 years ago, dog was man's best friend and dinner.
An aspiring actress remained in jail in Canada on Friday, accused of faking a casting call for babies in an elaborate effort to snatch an infant.
TSA agent busted bribing JetBlue ticket agent with $100 to carry unknown package onto flight.
A Tory MP apologised in the Commons last night after he was interrupted by his own musical tie.
With video.
Parents kicked out of council playgroup for being British. Bonus: this happened in the U.K.
Burglars break into home, snort up jar of cocaine, don't get high, then realize it was an urn containing cremated remains of the homeowner's father.
Florida.
The rise of real-life superheroes.
"The fact is that Amsterdam's heroin-addict population has been falling for two decades. That's even though, since 2002, the Dutch authorities have been doing something radical: They've been giving the addicts free heroin [Interesting]"
Dubai : Police arrest three suspects accused of manufacturing and selling robot Camel jockeys equipped electric shockers to make them run faster.
Squatter moves into crappy cottage, transforms it into dream home. Now he faces eviction, and neighbors actually want him to stay and are raising funds and paying legal fees to help him out.
Man runs over and kills pedestrian, goes to jail for five years. Just after being released from prison, is himself hit and killed by a motorist.
Teenager, 14, shoots his father, great aunt and grandmother with rifle bought as birthday present.
Colonies of a bizarre microbial goo have been found practicing agriculture at a scale tinier than any seen before.
The case against Lance Armstrong.
'...if evidence suggests that Lance Armstrong was directing illegal doping activity, the inquiry could result in charges against him of conspiracy, wire fraud, money laundering, racketeering, drug trafficking and defrauding the U.S. government."
Train delay leads S.C. single mom to $1 million lottery ticket.
In addition to gays, Iowa Republicans add another group to the people they believe are a threat to marriage: working mothers. Why? Because "two-income families have eroded traditional nuclear families" [Asinine]
Headline by Fark.
Not News: Oil from BP spill is washing up. Oh Shiat: In human blood samples [Scary]
Headline by Fark.