Channel _53 - January 5th, 2011
Internet scrapings, offbeat news and other bizarre oddities
05 January 2011 @ 12:59 am
05 January 2011 @ 06:18 am

Thousands of dead birds fall out of the sky in Arkansas.
Hundreds of dead birds fall out of the sky in Louisiana, 300 miles away from the Arkansas incident.
Hundreds of dead birds fall out of the sky in Arkansas. Again.
Dyson Frost
sought for questioning.

Thousands of dead fish suddenly appear floating in Arkansas river.
Also:
Dead bird mass die-off + dead fish die-off + Bible belt = idiots Googling Bible prophecies fearing the end times.
So in summary:
Over 3,000 birds fall dead in AR, over 500 in LA; 83,000 drum fish wash up on shore; 20,000 fish in Chesapeake Bay; 15 tons of fish wash up dying on shores of Brazil. In four days.
2011 is off to a good start, it seems :/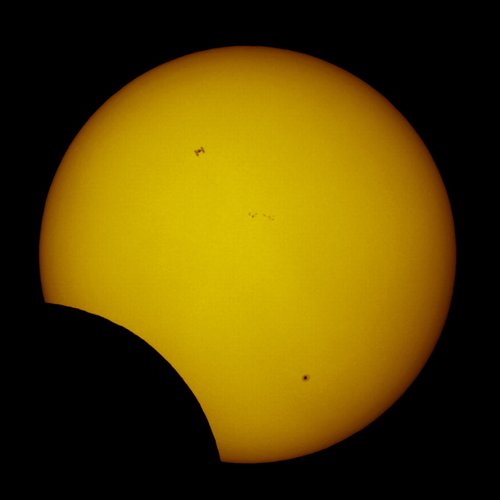 Sun + Eclipse + Sunspot twice the size of Earth + International Space Station = One Seriously Badass Pic.
"Astrophotographer Thierry Legault (featured previously at Neatorama) went all the way to Oman to take a picture of a solar eclipse. The shot he wanted was only available for a split second today, and he got it! Not only is the moon moving across the sun, but you can see other things in the picture (see the full-size version at the link). The small spot towards the bottom is a sunspot twice the size of the earth, and toward the top is something that looks like a TIE fighter. That is the International Space Station (ISS)! The Bad Astronomer explains how rare this picture is: That's why Thierry sojourned to Oman; due to the geometry of the ISS orbit, it was from there that he had the best chance of getting a picture of the station as it passed in front of the Sun during the relatively brief duration of the actual solar eclipse. But talk about brief; the ISS was in front of the Sun for less than second, so not only did he have one chance at getting this spectacular once-in-a-lifetime shot, but he had only a fraction of a second to snap it! The ISS was only in front of the sun for .86 seconds during the eclipse."

You know that Body Worlds art exhibit featuring real human corpses? Yeah, the guy behind them is dying, and plans to exhibit his own corpse too.
"The German pathologist who caused a stir around the world with his plastinated corpses said he is dying and will have his own body exhibited. Gunther Von Hagens revealed that he has been battling Parkinson's Disease for the past two years, and once he passes away will have workers at his laboratory in Guben use his own plastination techniques to preserve his body, the Croatian Times reports."

Speaking of corpses, today I learned that a human corpse can literally turn into soap.
"When the corpse above was discovered in 1875 during the digging of a train depot foundation in Philadelphia, it has turned into soap. Water had seeped into the casket and brought alkaline soil with it, turning the fats in the man's body through a type of hydrolysis called saponification."

Saudi Arabian officials have reportedly arrested a vulture suspected of being a Mossad spy. Nothing to see here, carrion [Strange]
Headline by Fark.

Murdered Filipino politician photographs his assassin a split second before being killed.
A local councilman shot to death on New Year's Eve in the Philippines accidentally photographed his killer pointing a gun at him just before pulling the trigger.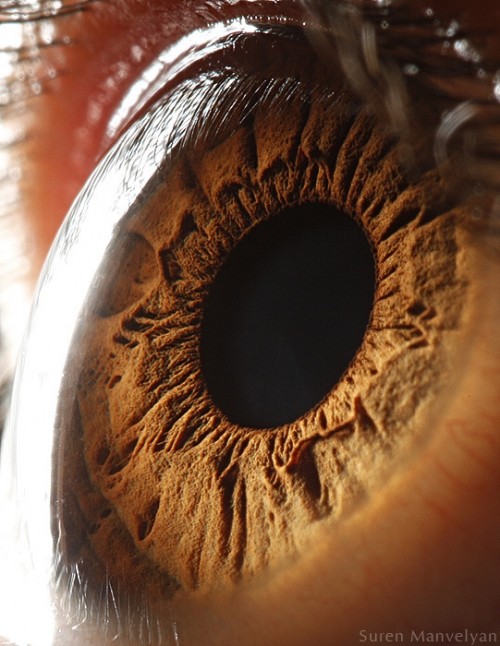 Extreme close-ups of the human eye.
52-year-old black businessman suffers diabetic shock while driving, causing him to weave into another lane. So naturally, cops smash the window of his SUV, shocked him with a Taser seven times, threw him to the ground, dislocating his elbow and kicked him in the head. Then, even while finding out that it was a medical emergency, cops charge him with resisting arrest and failing to comply with a police officer's order.
Surprisingly, he's suing.
Religion of peace, etc.
"The governor of Pakistan's most dominant province was shot and killed Tuesday by a bodyguard who authorities said was angry about his opposition to blasphemy laws carrying the death sentence for insulting the Muslim faith."
"An 82-year-old retired high school math teacher and business owner with diabetes and leukemia shot out a tire on a pickup truck loaded with stuff allegedly stolen from his house near here and held two men at gunpoint until police arrived."
"Walking to the men, gun in hand, Harper said, he yelled, "I'm an excellent shot and can shoot out your eyes at 60 paces.""
"Microsoft Ready To "Take On'' Google and Apple TV". Cue laughter now.
Hi, I'm an 18-year-old lesbian with cancer, and only pictures of your vagina can cure me
Headline by Fark.
"Prosecutors say a man who posed online as a lesbian stricken with cancer to entice teenage girls into relationships has been sentenced to more than 10 years in prison. According to his plea agreement, Patrick pretended to be a cancer-stricken 18-year-old girl on social networking sites, where he solicited the girls to send him pictures of their genitalia."
Naked man arrested for hopping high fence, smashing glass door, claiming to be God while tripping on acid.
Def Leppard tribute band are so hardcore, they're seeking a one-armed drummer with a flame-retardant drum set.
With pic.
In the wake of the Upper Big Branch mine explosion, the coal industry is proving its commitment to worker safety... by obstructing, circumventing, and lobbying against safety regulation and enforcement [Obvious]
Headline by Fark.
Congratulations to the winners of Fark's 2010 Headline of the Year contest.
Lifehacker: Make better decisions in 2011.
In a case destined for the anals of crime history, man sues to supress body cavity search that turned up crack in his crack, dawg
Headline by Fark.
Four bottles of champagne, $1,400; four hours worth of dances, $3,600; four bottles of Fiji water, $25; one "Breast of Fire" dinner, $11; and one "Roman Orgy" dinner, $14. Credit cards denied...priceless [Amusing]
Headline by Fark.
Saudi Arabia Requiring License For Online Media.
"According to Saudi Arabia's leading English newspaper, Arab News, online newspapers, blogs and forums will now need to register with the Ministry of Information and Culture for licenses to operate, according to new regulations that the ministry announced Saturday it is to introduce."
10-year-old Canadian girl discovers supernova.
The son of the Shah of Iran has committed suicide in the United States, reportedly weighed down by sorrow at the loss of his father and the upheaval in his homeland.
Breaking news: Jesus Christ has Hepatitis A.
"Hundreds of people might have been exposed to hepatitis A while receiving communion on Christmas Day, Long Island officials said Monday."
Boring conference wasn't.
Actual headline: 'Full Metal Jacket' drill instructor apologizes for calling on Americans to 'rise up' against Obama.
Add Fannie Mae and Freddie Mac to the list of companies BoA is throwing billions in settlements at in advance of its crucifixion by WikiLeaks.
A beauty queen claims disgruntled fans have taken revenge on her by pouring acid on her cat.
The Top Ten Reasons Why "Top Ten Lists" Are Silly.
Beautiful picture, but a crappy place to be: Couple rescued by helicopter from ice float.
Blow-up sex doll causes car accident.
Suicidal man saved by NYC garbage, last week's blizzard.
"A suicidal man plummeted nine stories and survived in midtown Sunday when he landed on a mountain of trash that had piled up since last week's blizzard, officials said."
A distraught pet owner who put up posters of his lost cat was forced to rip them down on Christmas Eve after being threatened with a £1,000 fine.
Captain of USS Enterprise fired for posting sexually racy, homophobic videos on the internet.
AND NOTHING OF VALUE WAS LOST
Woman stabs politician to death in Bihar, India for raping her repeatedly.
AND NOTHING OF VALUE WAS LOST
Man Bobbits self.
"A man cut off his testicles - then hurled them into a park. The 22-year-old is believed to have carried out the horrifying DIY castration in a bid to change sex. He waited nearly 24 hours before staggering into hospital. On arriving at accident and emergency, he told stunned staff he had felt "a lot less pain" than he had expected. He left after being treated with swabs and stitches - and was advised to seek psychiatric help."
Man, the recession / economy is affecting everyone these days: Thief holds up convenience store using big stick.
"Elias also told investigators he had to keep committing the burglaries so he could afford to pay his attorney a $150 weekly fee to keep him out of jail."
A woman was arrested Wednesday morning for beating her husband with a rock, claiming she didn't want him to smoke a cigarette because of his poor health.
Also, Florida.
"The man said he has driven on the railroad tracks before without incident. When asked why he was nude from the waist down, he said: 'No reason.'"
Again, Florida.
Your website, drunk.
Ancient fortress in Tel Aviv home to ancient lesbian urn. What's an ancient lesbian urn? About three drachmas an hour [Spiffy]
Headline by Fark.
Julie MacDonald. Remember that name. She "personally reversed scientific findings, changed scientific conclusions to prevent endangered species from receiving protection, removed relevant information from a scientific document, and ordered the Fish and Wildlife Service to adopt her edits."
A prosecutor with a reputation for winning lengthy prison sentences for drunken drivers has been suspended with pay after being charged with driving while intoxicated.
Man steals ice cream cake, flees in Mercedes.
Florida doctor killed by neck massager.
Meanwhile, in Cambodia...
"Hundreds of Cambodians have celebrated the unusual wedding of two snakes, in the belief the nuptials will bring those attending prosperity and peace."
Don't snakes usually mate in a massive writhing orgy that includes traps?
Think updating your blog is a big accomplishment? Here's the story of a 12 year old who publishes his own handwritten free newspaper to fulfill his dream to serve his country.