Channel _53 - August 15th, 2006
Internet scrapings, offbeat news and other bizarre oddities
15 August 2006 @ 01:17 am
15 August 2006 @ 01:56 am
swedish pirate party launches relakks, a massive darknet for untraceable, anonymous exchange of information and data over the internet.
"There are many legitimate reasons to want to be completely anonymous on the Internet," says Rickard Falkvinge, chairman of the Pirate Party. "If the government can check everything each citizen does, nobody can keep the government in check. The right to exchange information in private is fundamental to the democratic society. Without a safe and convenient way of accessing the Internet anonymously, this right is rendered null and void."

The Pirate Party is Sweden's largest political party outside Parliament. It was founded in January, 2006, and is running for office in this fall's general elections. The party only has three issues on its agenda: shared culture, free knowledge, and protected privacy.
via
fark.
15 August 2006 @ 02:01 am
cambodia introduces world to "genocide tourism"
118,000 FEMA trailer homes to get new locks after discovering that the same key could open multiple mobile homes
earlier i remember reading that most of those trailers are in fact empty. those that are not have occupants breathing formaldehyde emissions, have no locks on their doors, and live with armed men posted outside forbidding any contact with the press.
texas oil rig worker becomes another life ruined by winning the lottery
(in case you're confused, read
this rotten library article on the phenomenon of lottery winners
whose sudden wealth inevitably ruined their lives, often very quickly)
columbian drug lords apparently using submarines after abandoned sub found drifting by spanish cops
ten year old welsh girl $6000+ richer after finding lump of whale vomit
(whale vomit, or
abergris
, is used to slow evaporation in expensive perfume, and is worth about $5 a gram.)
inmate "escapes" courtroom, and by "escape" they mean she literally walked past armed security guards in prison garb and cuffs. as a result, courthouse says they will install new locks.
15 August 2006 @ 03:05 am
15 August 2006 @ 03:36 am
via
boingboing
and
ytmnd
:
the best 404 page ever. if this was on a t-shirt, i'd sell everything i own for it.
sorry for fubar-ing up your friendspage, but this was too good to not post, and i don't have an image editor here at work to crop it with :-(
edit:
came home and cropped it!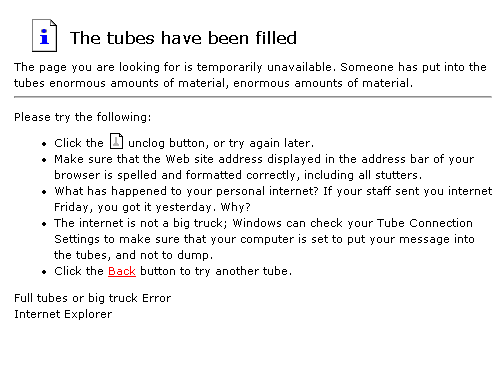 Current Mood: laughing my ass off
15 August 2006 @ 03:43 am
also via
boingboing
:
15 August 2006 @ 03:48 am
15 August 2006 @ 05:57 am
cross posted to
thequestionclub
: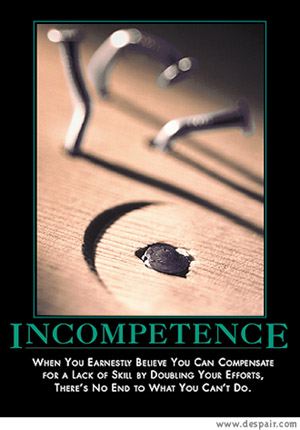 that being said, what's an example of the most incompetent person you've ever come across in a workplace scenario?
well mine was when i was about twelve, i went to my mom's office (she was a secretary in an international bank then) and sat at her puter while she got her stuff ready to leave with me. i opened up paintbrush on her peecee's windows 3.1, and started doodling. suddenly one of her co-workers pops up and is just utterly amazed at what she sees on my screen, asking me how i did it, and i'm realizing she's unaware of the existence of microsoft paintbursh in windows 3.1 (the then current OS). hiding my amazement that anyone who has ever used a computer for more than eight minutes doesn't know what paintbrush is, i manage to show her how you open up paintbrush, how you use it, all that, and she's just spellbound, i mean it's like some kinda paradigm shift for her, really.
on the way out with my mom, i ask her who this young woman was.
she tells me she's the senior network administrator for the entire bank.
silence.
my mom explained, "well, she's got really big boobs."
your turn.
15 August 2006 @ 07:58 pm
When I call 911 I use 99% common sense, 0% ignorance, and 0% rudeness!
Well, how did you do? Do you use common-sense when you call 911? Or are you ignorant of the ways of the emergency services? Do you have bad people and phone skills?



This test was created as a joke, but on a serious note let me give my faithful test-takers a bit of advice to get you through life -- and emergencies -- a little more smoothly.



Top Ten Things To Remember When Dialing 911:

10. Don't commit/admit to crimes while on the phone with us.

9. If you're witnessing a crime, stay calm! Try to get a description of the suspects, or tell us what direction that drunk driver is going.

8. Listen to us! If we ask you or tell you something, it's usually for a reason, and that reason is usually your safety.

7. Before you hit "send," think to yourself: is there an immediate threat to someone's life or property? Is someone at risk here? If not, then you can probably call the non-emergency number.

6. Learn and memorize/program your non-emergency police response number. Use this for parking problems, noise complaints, burglary reports and animal problems.

5. Don't scream. You hyperventilate, and we can't hear anything. Nobody wins.

4. Know where you are at. Cell phone GPS systems are good, but not that good. Know an address or an intersection you can tell us. And for that matter when we ask where you're at, the correct response is not "I'm right here."

3. Teach your children about 911, but don't tolerate or think it's cute when they abuse it. You're tying up the line that other people could be trying to use.

2. Don't call 911 if your hamburger turns out bad at the local Burger King.



And the number one piece of advice...



1. Stay calm. Help us help you.


My test tracked 3 variables How you compared to other people your age and gender:
| | |
| --- | --- |
| | You scored higher than 20% on common sense |
| | You scored higher than 0% on ignorance |
| | You scored higher than 0% on rudeness |
15 August 2006 @ 08:03 pm
also, happy independance day :-)