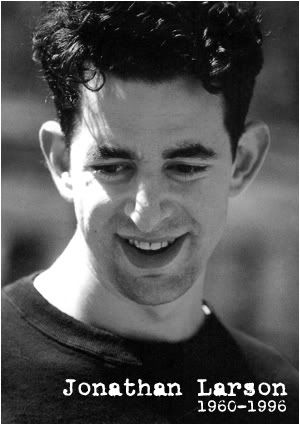 turn thirty, 1990
bang your dead
what can you do?
-- Jonathan Larson, from tick tick boom
Tick Tick Boom is a rock musical loosely based on Jonathan Larson's life. Composed by Jonathan Larson, the show talks about the failure of his first show, Superbia. Talks about his best friend finding out he has aids. Breaking up with his girlfriend. Leading up to the creation of "Rent". and mostly, Jonathan Larson's fear of turning 30 and realizing he is a failure and has yet to compose a masterpiece.
Jonathan Larson died of aortic aneurysm on January 25, 1996. The night of the final dress rehersal of his masterpiece, Rent. Age 35 "one by one, only the good die young" -- queen.
the part that still strikes me as creepy is that line. he was in his 30's, in the 1990's. "the sense of your leaving, was it the way it was planned?" -- queen.

Today, on the 10 year aniversary of this amazing man's death let us remember him.
his creativity, the musical he has given us, and even more meaning to the show's motto "No Day But Today"
Jonathan Larson, we will always be remembered. You may not have gotten to witness your own work of art, but millions have. I hope you are smiling down upon us right now thinking that you got what you wanted, you wrote not only one song, but 2 full musicals worth of songs that people will listen to, people will remember.
RIP Jonathan Larson
February 4th 1960 - January 25th 1996