May 27th, 2017
---
07:15 pm - my sweet angel
In the French Quarter. Standing on the street, drinking a Sazerac, waiting for my 8pm vampire tour.... daydreaming about a silly rabbit...
Current Mood: happy
Current Music: Toadies - Possum Kingdom

May 23rd, 2017
---
12:29 pm - Collide with me tonight
I had so much stuff to do today (unpack/repack) but I was totally worthless.... I'm still buzzing. :D The only marginally productive thing I did all day was flip through my NOLA travel guide... I hope HG wants to go on a swamp tour this weekend!

I had so much fun at the gothic/music festival Convergence 23 in Dallas Friday and Saturday night... I wish we had stayed for Sunday too. I went with my bffs Mimi and Paul (our first threesome roadtrip), saw my favorite band Iris play (so perfect, I cried in the bathroom afterwards), talked to the silly rabbit (so adorable), and overall had a wonderful time. The secret guest was Frank Spinath of Seabound, which was a HUGE surprise, it was awesome to see him in "professor mode" giving a lecture about his new album. Frank also sang two songs with Iris on Saturday night; I never in a million years thought I would hear "Beyond the Gate" performed live! The photographer standing next to me got video of the song and promised he would send it to me. :)

Even though there weren't many people from San Antonio there (just a couple of DJs) I was surprised at how many people I knew, mostly people I've met in Austin or at other festivals. It was nice to see my friend Christine (aka Tall Drink of Slaughter), she finally looked a tiny bit happier. She's been understandably depressed the past few months since my friend Jon (her boyfriend) died in January, so it was nice to see her smiling. LOL she even let Paul try to flirt with her a bit (she's an amazon, just his type). I could tell Paul liked her because he actually said to her "I don't hate you" when we were leaving. :D She took it in stride... I had warned her in advance what a drunk asshole he can be.

I know people wonder why me and Paul are friends; he is the ultimate angry grouchy pessimist and I'm the sunny optimist. LOL the best example: when I cook him dinner, he never actually tells me if he likes something... the highest compliment he can give me is "you can make that again" or "that wasn't terrible". It's never something positive, it's always a double negative. I've always liked hanging out with him because he is freakishly smart, but I've never understood why he puts up with me when we disagree on everything. :D

Maybe after 8 years of being friends I'm rubbing off on Paul though. When walking to the lounge on Saturday night, a homeless guy stopped to ask us about our strange black clothes and the rest of the goth crowd... I gave him twenty bucks, then PAUL DID TOO! I couldn't believe it. I wanted to tease him about it the rest of the night but then I figured he would never do it again if I made a big deal about it. *sigh* I'll turn him into a big softie yet! I even got him to admit begrudgingly today that he likes bambi season in Hollywood Park; the first babies were born this weekend while we were in Dallas.




I want to sit next to you and touch you and whisper in your ear. I want us to remember this ridiculous story fondly and tell it to our friends ten years from now. I will give you anything you want if you just ask. XOXO



Current Mood: euphoric
Current Music: Seabound - Black Feathers

May 20th, 2017
---
08:39 pm
I'm listening....
Current Mood: so happy

May 19th, 2017
---
May 15th, 2017
---
11:58 pm - you put a spell on me
*sigh* well I'm possibly/officially a criminal (there goes my future as mayor of Hollywood Park).... last night I orchestrated a kidnapping! Or, a Merlin-napping? Megan left the Merlin doll I gave her in the care of my friends C&K a few months ago until she could get him boxed up and shipped to Portland. After Megan died, C&K promised I could have him back to re-gift him, but for the past three weeks, they have been giving me the runaround and were always too busy for me to stop by and get him.... so last night my old roomie DIB snuck him out of their house for me :D




And as soon as I saw him I understood why C&K were avoiding me... Merlin is a HOT MESS. He looks like he's been on a three-month bender and living under an overpass. C&K were storing Merlin with the two cats they have locked into an upstairs bedroom (don't get me started on that). The cats knocked him on the ground and peed on him. By the time DIB rescued him, he was infested with fleas, covered in matted cat hair, and missing an arm! :( He's not damaged beyond repair, but he definitely needs some TLC. Luckily Mimi has an artist friend who is a sculptor (who can make a new arm) and maybe after a sponge bath and a makeover he'll be his old self again.

Don't worry, old man... I'll take care of you ;)




Other than that, I had a nice, lazy weekend. On Sunday I chatted with my mom a bit (she went to visit my sister in Bryan/College Station for the week), started watching the Handmaid's Tale (seemed appropriate for Mother's Day), then went out to buy groceries.... and because of all the pretty holiday flowers at HEB thought I would make the quick trip out to find Megan's grave with a bouquet (it's only about 20 minutes from my house, and a nice afternoon drive). I thought I would stay for just a few minutes, but actually stayed more than an hour... I met a nice widower there to visit his wife; their son is a pitcher for the Toledo Mud Hens, and we sat on the grass and listened to the baseball game on the radio.

I took her some yellow roses. Me and Mimi jokingly called Megan by the name "Rose" forever because of our future-Golden-Girls-in-Florida scenario... her sister told me this week that Rose was her birth name. It really suits her better than the name Megan.

As I've mentioned before, I've never liked my legal first name, my friends call me by my middle name instead... I used to complain about it a lot when I was younger, and I even considered legally changing it. Once when I was about sixteen, my mother, frustrated with my complaints, said "FINE what name would you like instead?" and I impulsively said "Elizabeth!!" (I dunno, I've always liked that name). My mother got the strangest pained look on her face... she said that up until the day I was born, my name was going to be Elizabeth! And then, in the maternity ward, my father changed his mind. LOL.

Funny what things you know instinctively, the things you don't have to be told. XOXO



Current Mood: relaxed
Current Music: Assemblage 23 - Talk Me Down

May 10th, 2017
---
01:28 am - I'm just longing for someone to take me on
Well howdy, LJ. It's been awhile. I had a supremely chipper post ready to go Friday night (slow night at work... Spurs game LOL) and I should have just posted it then... instead of deleting it and producing this dreary mess I have re-written now:






(

the aftermathCollapse

)


Current Mood: optimistic
Current Music: Kite - Ways to Dance

April 28th, 2017
---
01:57 am - Let sleeping dogs lie
Howdy. I'm fine, really. I'm only awake in the middle of the night because I went on my first jog in six weeks (I haven't exercised at all because of my accident/influenza) and now I'm painfully sore and restless. WOW I can't believe I got so out of shape in such a short amount of time. :/

HG has been here for a visit and it is Fiesta week, which has been a nice diversion. Even though it is San Antonio's biggest annual party, and I am a beer snob and cocktail enthusiast, I decided on Sunday that I wasn't going to drink for a month (so my Fiesta-going friends have had me as a DD). My father was an alcoholic, so I'm always worried that if I use alcohol as a crutch to cope with emotional trauma that it will lead to dependence... so every so often I choose to abstain for a while, just to make sure I didn't inherit that gene. I've made it through three Fiesta events this week completely sober, much to the annoyance of my friends. :D

Yes, I'm still angry, but I think I'll be ok now until Megan's memorial service, which tentatively is planned for next Saturday. I wish you were here to hold my hand. You know, my friend Jon's memorial service in January was a rowdy and bawdy event.... there were as many laughs as there were tears. But Megan's service I'm sure will be profoundly sad. Everyone feels too guilty to share happy memories.

It's been more than a week since Megan died, but I'm still being contacted by people who are just finding out the news... yesterday her ex-gf Anne and today her old neighbor Gabe. Friends have been very discreet on FB, which is considerate to her family, but as a result some people still don't know she has passed... In contrast, when Jon died, everyone competed for the grandest tribute; everyone wanted to be the loudest saddest person on FB. Crocodile tears. (It was infuriating and disrespectful.)

At any rate, losing three friends in a little over a year (Chad, Jon, and Megan) is still hard to swallow. I chatted a bit with my ex-bff Kcat this week... the reunion we planned last month has now suddenly become imperative, so we are meeting Saturday afternoon in Austin for a long late lunch. Even though she moved away a few years ago, she was also friends with the three people I have lost (she was very close to Chad, they went to high school together). I think she has been lonely at her new home (near Killeen)... it's hard to make new friends as a grownup.




Kcat was my first crazy cat lady friend... we went to pharmacy school together, and she already had three kitties when I got my first pet Miss Riley. LOL she even married a Mr. Mau (the Egyptian word for cat!!). Her last kitty was Bob, my Tranny Cat's brother (we rescued the two of them together, from a parking lot). But in the past three years?? She's gotten two bulldogs. NOW SHE'S A CRAZY DOG LADY. *sigh* it's like I don't even know her anymore... :D

(edit: ooops the dogs are Boston Terriers... I thought they were Frenchies!)

I'm very excited about our reunion this weekend. I regret that it has been so long. Like most people, I'm pretty dense. I don't just need a sign, I need a push.

XOXO



Current Mood: 238
Current Music: Kite - Count the Days

April 23rd, 2017
---
03:43 am
Spontaneous drunken memorial tonight for Megan, I'm sure just the first of many. I needed to get out of the house a bit and be around other people. It's Fiesta week, so HG is coming later this afternoon to visit for a few days, which is perfect timing, I could use the distraction.

I've lost count of how many people have called or messaged me in the past 48 hours. All of them wanted to talk about what Megan meant to them, how she touched their life. Megan was very special, I didn't know anyone else quite like her. She was sensitive and fragile and innocent. She believed in fairies and found magic in everyday objects. She was sweet and genuine and generous. No one was invisible to her, and no one was a stranger... she befriended everyone she met, instantly. There was no pretense or judgement or barrier.

She liked to explore places on her own... the countryside, abandoned buildings, ghost towns, the city in the middle of the night. The more lonely and desolate the place appeared to be, the better. She would come back with surreal photographs and a pocket full of souvenirs, usually rocks and leaves. She loved it when her friends would bring her similar little worthless trinkets... last year I brought her a hunk of petrified lava and some seashells from my travels. Mimi is in Florida visiting her mother and took a picture of the coral and glass she had picked up on the beach this week for Megan. :( I have a pile of silly colored rocks I bought in January that I never gave her... I was out of town during Megan's last visit to SA at the end of February.




Of course all of the people who called me hadn't spoken to Megan in a couple of years, in the time that her illness had become so severe. She didn't have the opportunity to alienate them or push them away. And yet none of them were surprised by the news. It was heartbreaking to be reminded how universally well liked she was. So many people really loved her, which makes this whole event even more tragic and pointless.

I suppose I am struggling with this more than others because I have never considered suicide. There have been terrible days in my life that I never want to revisit, and periods when I was definitely clinically depressed... but I've never felt hopeless enough to end it all. I don't think I could do that to my family. And I don't know what is waiting for me. I have been offered the red pill and the blue pill but still haven't decided.

I know Megan was in a lot of pain. I'm sure she felt totally alone in the end, but SO MANY people would have reached out to her if she had asked for help. Dammit Megan. Everyone loved you. It didn't have to end this way.



Current Mood: angry and drunk and tired
Current Music: Kite - up for life

April 21st, 2017
---
09:50 pm
So when exactly did suicide become the number one cause of death amongst people I know? Here is the scorecard for this month:

1. First: My bff MiMi's adopted brother, a cop, who committed suicide at his police station. The funeral was Saturday April 8 in Houston. He left behind a beautiful wife and two pre-teen daughters. He was depressed, and being a cop is stressful. I feel so bad for his two little girls now growing up without their father.

2. Second: one of my previous business owners, a hospice administrator. He had a long history of bipolar disorder and committed suicide last week, his funeral was Tuesday morning. His children were grown and he had recently sold his business and retired with his wife to Nicaragua.... he should have been living out his days lying on a beach somewhere.

3. Third: My dear friend Megan.

I left LJ in 2010 for FB and came back in 2015, specifically at Megan's request. She had fought depression for a long time. In the fall of 2014 I called police and had her picked up for a 72-hour psychiatric observation because she was suicidal.... she didn't speak to me for almost a year afterwards. By the fall of 2015 she had forgiven me and we were friends again.... and for whatever reason, she had come back to LJ. Her posts were usually pictures or song lyrics or rambling poetry, the kind of stuff that didn't make sense on FB, I guess. I'm not sure. But she invited me back to LJ, and I used it to keep tabs on her. Sometimes she wouldn't respond to emails or text messages for days, but if I ever made an LJ post, I heard from her immediately.

She declined pretty dramatically in the past year and a half. She had been to rehab several times before for alcohol abuse, but the more urgent problem was her recurrent depression. THIS POST was totally about her, gender reversed, but she didn't get it. :( She actually texted me after reading the entry to ask if she knew the friend I was writing about, but I couldn't get her to see it. I shouldn't have been so subtle.

She moved to Portland last August, under terrible circumstances. She was mentally ill. She was paranoid (she had been caught installing a spy camera in a government building) and abusing drugs/alcohol (she got a second DWI and on another occasion OD'd and passed out, falling on her face and knocking out some teeth). She was seeing a doctor but it wasn't helping. I was stupid and optimistic. I hoped the change in locale to Portland would be good for her... and for a moment, I thought I was right. When she came back in October for MM's wedding party at my house, she seemed a tiny bit happier. But this was a brief respite.

The past six months she has rapidly deteriorated. The texts from her were intermittent and sad. I had talked to her ex-boyfriend Ryan on the phone more than once, he was worried about her.... but when Ryan went to visit her in Portland in December, she seemed stable. She told me she was moving back to San Antonio in the fall, when her year lease was up, and she was already looking for a new job back here. Two months ago Ryan called me because she had asked him to "take care of her cats if something happened to her". We argued for an hour on the phone. Neither of us knew what to do... unfortunately the police/social services will only intervene if someone is an imminent danger to themselves or others... and Megan was smart. She knew that threatening suicide would get her committed again, so she chose her words carefully.

I realize now that moving across the country was the worst thing she could have done. She was trying to move away from her legal problems, but it only isolated her further from the few friends she had left. I tried many times to get her to reach out to her family, but she said repeatedly that they didn't care... she was adopted and felt inferior to her brother, the biological son with a wife and children. I don't know her family at all, but their behavior since her suicide only confirms their disinterest. I last heard from Megan Monday... she died Monday night. Her coworkers sent the police to her house for a welfare check because she didn't come to work. Her family chose not to notify her friends, we found out two days later by accident... they all know Ryan, he should have been contacted immediately. And the worst part? Her family let the pound confiscate her two beloved cats, Loki and Phoebe. Megan would be devastated if she knew her pets were in a shelter instead of adopted by friends or family.

I'm so sorry Megan. Your blood is on my hands, I failed you. RIP.



Current Mood: SO FUCKING ANGRY

April 20th, 2017
---
April 17th, 2017
---
05:28 pm - 227
How did you know? I haven't told anyone... I haven't told a single person.

April 16th, 2017
---
02:22 am - All of a sudden things are looking up
I should be doing my taxes but they are due two whole days days from now.... And if there is one thing I am good at, it is procrastinating! I am the best! If there was a procrastination contest, I would win.... if I got my application in on time? So instead I am shopping for a new crappy phone (I want a better camera), and books (I haven't read anything since March), and posting in LJ... I have kind of dropped off writing regularly so I am trying to get back in the habit. PS: you are the best listener, really. You never interrupt me when I am talking. :D

Unlike other people having adventures this weekend, unfortunately nothing super interesting happens on my on-call week... Except! Today I chatted a bit on FB with my old pal Bob Price (he of the 1990's Morrissey date) about the ex-girlfriend whose concert ticket I usurped.... my old pal KK Ward. KK was an officer in my service fraternity (Alpha Phi Omega), and we lived across the hall from each other during our junior and senior years at TCU (yes, I was totally the nerd who lived in the lesbian dormitory all four years).

KK graduated in 1994 and I flew out to her wedding in Tennessee in the fall of 1994. She married an aspiring country music songwriter named Craig... they had met in church camp as teenagers (and they were getting married in the rural countryside where the camp was, it was too cute). The last time I saw her was 1996-1997ish, when I visited the newlyweds back at their home in Nashville. Craig had some success at that time, but they were still struggling. We sat on his 1970's couch and he sang me the newest song he was peddling, Betty's Got a Bass Boat. By this time, I was in graduate school, and KK was working as a graphic designer and thinking about applying to the seminary. I got a few Christmas cards from them after that but we eventually lost touch. She's not on FB, so neither Bob or I really had any idea whatever happened to her....




WELL I may be a terrible stalker (obviously) but through the power of google I did catch up with our friend KK.... yes, she did eventually become a DofC pastor. And her husband? He became THIS GUY. Wow!! I don't listen to country music at all, but even I've heard Live Like you were Dying in an elevator somewhere... :D I could make a joke here about them going at home at night to roll around in their piles of money, but reportedly they are extraordinarily generous and well-respected. I'm not surprised at all. I'm so happy for her :D

And the moral of the story is: sometimes the nice guy does finish first :D

Hmmm. I might have a country music song in me somewhere. It would be called, "I'm the luckiest dog on the porch" and it would be about a cutie pie I know. ;)



Current Mood: too bouncy for 2am
Current Music: Pam Tillis - Betty's Got a Bass Boat

April 13th, 2017
---
02:21 am - that joke isn't funny anymore
Working.... though I don't think I'd be sleeping anyways, my on-call week was perfectly timed. I actually had a last minute invitation to skip out of work and see Morrissey tonight, but then he cancelled again (his third San Antonio show cancelled in six months). :/ I guess I will have to scratch him off the live show bucket list... I've actually seen him once many years ago, but at the time I was a prissy teenager and had no idea who Morrissey was (I was just filling in for my bff, who had dumped her older boyfriend Bob and he needed an escort).

so instead of being at the show, I'm mindlessly perusing youtube in the middle of the night... which led to an important discovery: THE FAINTING GOAT IS MY SPIRIT ANIMAL!!



So klutzy and ridiculous and adorable. *sigh* if only my silly HOA would allow pet goats...
XOXO



Current Mood: amused
Current Music: Faithless - Insomnia

April 12th, 2017
---
03:29 am
Thanks to those of you who sent me messages, it was incredibly kind of you to reach out to a virtual stranger.

I have wanted to write but still don't know how to apologize. I was so excited just to be near you, really.... my hands were shaking. But I'm so intimidated by you that I chickened out. I'm so sorry. Please don't be angry.

Goodnight sweet prince. XO

April 7th, 2017
---
06:57 pm

Current Mood: anxious

March 31st, 2017
---
08:18 pm - Friday night lights
March 2017! Featuring: Mimi & her mom, Jenn-o-syde, MM & LL, HG & Monica, Etienne, Dr. Romeo, DJ Inka, Hans, Airwrecka, Paul, Lester the robot, Bartacus & Trannycat, and Marky Mark the Raccoon. Floods! Fire! Danger! No blood and guts, but... bruises and syringes?



I have so much fun with this little app even though I'm not a creative genius like some people *sigh*



Current Mood: bouncy
Current Music: Iris - Have I lost it all

March 27th, 2017
---
04:54 am
Sometimes you say something so perfect or insightful that I wonder how you knew it. Am I that obvious, or are you that perceptive, or was it just a lucky guess? Because I never feel like I am sure what you are thinking. Hmmm I should be sleeping....

March 25th, 2017
---
12:22 pm - Better late than never
Well howdy LJ. I'm alive and well, thanks for asking. It turns out San Antonio is in the middle of a mini-influenza-epidemic, and all three of us who worked last weekend tested positive for influenza Tuesday morning (and now, three of their kids). My two coworkers got the rest of week off to recuperate, but I was forced to go into work anyways...just quarantined into a corner with my own computer and phone, and one of my employees occasionally sprayed me down with Lysol. *sigh* The one thing that sucks most about my job is that I can never call in sick. Well, I suppose I could call in sick if I was on FIRE, but then I should come in right away after the fire department leaves. Um... I guess that's job security? :D

BTW I heard some gossip that a local ne'er-do-well was maliciously spreading the influenza virus by coughing on unsuspecting dental hygenists, but this nasty rumor, whilst unconfirmed, is at most speculative, because the accused offender was outside of the window of time in which they would be considered contagious. </rant>

So I'm curling up with a book and staying in bed all weekend... I'm still coughing a lot, so I don't know if I will go out to ride my pretty new bike or make my Saturday night social engagement. But since I'm holed up in my bedroom, I will give an quick Iceland recap to those of you who didn't get the play-by-play on my FB (a month late, I know):

ICELAND IS NICELAND!!

I was only in Iceland for three days, and more than half of my activities were cancelled due to weather. I arrived in Iceland during a blizzard... yes, Iceland is near the artic circle, and therefore cold and snowy, but really their winters are overall pretty mild! Because of the gulf stream, the temps are usually in the 30's (not -30's) in the wintertime. This February, however, had record-setting cold weather. That was fine by me, because the primary point of my vacation was to visit SNOW!! Those of you who live in winter locations cannot imagine how MAGICAL snow is to those of us who never see it.... I've lived in south Texas most of my life and only seen snow a few times. So I wanted to see a winter wonderland... and I definitely got it on this trip! I got wet snow, fluffy snow, crunchy snow, all different kinds. :) Iceland is a volcanic mountainous island... there are very few trees or shrubs. So the winter landscape is smooth snowy mountains with the occasional black rocks jutting through.... it looks like a big bowl of chocolate chip ice cream. :)




I arrived early Friday morning, and all tours were cancelled that day because of sleet and 30mph winds. So I mostly explored Reyjkavik.... it's only about 120,000 people, so the main shopping/downtown areas are compact and within walking distance of all the tourist hotels. Of course I went to my bucket list item, the Icelandic Phallological Museum!! (really, I can't recommend it, it's a rip-off and a complete waste of your $15, but I was SO EXCITED to be there!). Of course I bought the tshirt. :p My Friday trip to the Blue Lagoon got bumped to the evening, but the thermal lake is just as beautiful after sunset... it is dimly lit, so in some places it is very romantic, and in other places looks like an alien disco... the way lights shine through the steam coming off the milky blue water is very pretty. I paddled around with a glass of wine and an algae/mud concoction smeared on my face for a couple of hours. :)




Saturday there was a slight break in the winter storm.... long enough that I got a tour of some of the local natural wonders, like the Gulifloss waterfall and the geysers of Haukadalur valley. But the highlight of the day was definitely snowmobiling on the Langjokull glacier... SURREAL is the only word to describe it... The snow on the ground was perfectly uniform and white, and the sky was perfectly white, so you couldn't see the line of the horizon. So with no landmarks (no trees, no rocks, no mountains) you had zero depth perception, even though visibility was good.... it was like driving into a blank piece of paper. You had to just follow the snowmobile in front of you (and how the guide knew where he was going, I'll never know). I was paired with a cute chick from Hong Kong... we drove out 10-15 miles, paused for pictures, switched drivers, and came back... on the way back (when I was driving) the blizzard hit again, and I began to wonder how many years it would take for them to find our bodies....



My Saturday night plans were again cancelled due to high winds, but while wandering around downtown I bumped into two delightful elderly couples from Devonshire, England (home to Chris Martin, they were friends of his parents, and they were quite disappointed that I couldn't name a single Coldplay song), and we all had dinner together at Matarjkallarinn, which was delicious (no, I didn't eat the local Puffin, which is what all the tourists want, because they are just TOO CUTE). Icelanders are pretty carnivorous.... they eat mostly fish and lamb (there is not much arable land to grow vegetables). In the summertime, >600,000 free-range sheep roam the island, which I think is hilarious (they actually warn you when you rent a car, because they are a road hazard). If you are a sheep rancher, you tag your sheep in the spring and set them loose!! then all the ranchers get together in the fall, herd them into the towns, and divide them up. LOL there is no way that would work in america....




After dinner I popped into the Lebowski Bar for a $20 white russian. Icelanders don't drink much, it is very expensive, and beer was actually illegal until 1989. So how are they statistically speaking the happiest and longest-lived people on earth (next to the Japanese)??? hmmm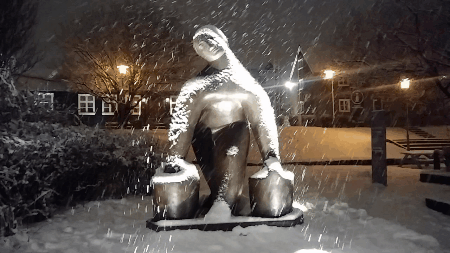 While walking back to my hotel, it started to snow again (the biggest fluffiest flakes I'd ever seen). By the time I got up for breakfast Sunday, the city had 20 inches of snow overnight!! so beautiful!!




Needless to say, all the tours were cancelled again Sunday, and many businesses were closed until the streets were cleared. I was kinda bummed because in the morning I was supposed tour the south coast, where they have the black sand beaches, visit an ice cave, and then have an ATV/quad bike mountain tour in the afternoon. But the city was gorgeous covered in snow, so I didn't mind, I wandered around for hours. In the evening I took a boat tour out into the bay to see the northern lights, but they didn't appear despite ideal weather conditions (of course, the next night, they were spectacular!).

I had a wonderful time. I want to go back and see Iceland green and mossy in the summertime, and I will re-book all the things I missed. I chatted with mom a bit this week, she's interested in going back with me!! Hmm will need to meet with her to make plans.... I think I should go to Houston to visit her in two weeks, what do you think? ;)

XOXO



Current Mood: spirited
Current Music: Depeche Mode - so much love

March 16th, 2017
---
02:59 pm - Yesterday was so strange: Ides, Rides, Brides
Well hey! you learn something new everyday! Yesterday I learned your left brake controls the front wheel on your bike. I learned this going down a hill at a high rate of speed. Today I am soaking in a tub, covered in bruises and road rash.... The bike is totalled and in a dumpster :) But hey! This time I didnt break any bones (awesome), I didn't land on my face (fantastic) and now I get to buy a new bike (excellent)!






(

TL;DR long boring wordy post. Maybe I'll add some pictures or something later to make it more interesting.Collapse

)



XOXO



Current Mood: possibly euphoric on pain meds
Current Music: Iris - Radiant

March 12th, 2017
---
03:28 am - Let me take you on a trip
My first post in two weeks!! I hope you have not been worried about me, even though I have been worried sick about you. I'm so sorry, I am not ignoring you. As they say in Iceland, "ég er í vinnutörn"!! Since I've come back from vacation, I've been pulling 12 hour days at work and going in on weekends... partially because I fired one of my best employees, partially because we are installing robotics in the office. I'll be back at work again overtime today (Sunday). Luckily I think we are almost caught up and and things will go back to normal 9-5 working hours.... just in time for me to start my on-call week tomorrow. :/


(
Ask, and it will be given to you; seek, and you will find
Collapse
)

Current Mood: sympathetic
Current Music: Depeche Mode - The world in my eyes