I write a zine called Luscinia, which is Latin for Nightingale :).
It is sadly currently ON HIATUS. No copies are available at this time!!


SPECIAL NOTE!: Luscinia is currently ON HIATUS and no copies are available at this time. Vol. 2 should hopefully be coming out soon, at which time you'll be able to purchase Vol. 1 again as well! I'm sorry for any inconvenience!

Luscinia, Vol. 1:

Mostly a personal zine with various poetry, photographs, drawings, and stories woven in.




Price | $2.50 Shipped

You can find out a lot more information about it here - Luscinia :).

I also have a special nightingale necklace that goes with it! -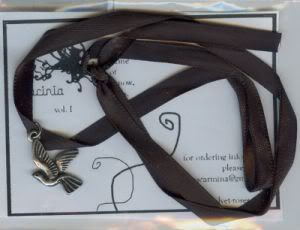 nightingale necklace
- $4 shipped

NEW! LUSCINIA, VOL. 1.5!




Basically Luscinia Vol. 2 is taking WAY too long to come out, so I decided to do a limited run of a sweet little mini version! It's very small and mostly collages and poetry-ish things, reflections on being a senior in collage and finding what I want to do with my life. It's a little piece of art with silver glitter and yarn :). THIS IS A LIMITED RUN, only 20 copies were made and will ever be made so get yours now!


&


Price | $1.50 shipped
*20 0 REMAINING; GONE!*

*** SPECIAL DEALS ***

Deal #1 - Buy both Luscinia Vol. 1 and the nightingale necklace for only $5 shipped!
Deal #2 - Buy Luscinia Vol. 1, Vol. 1.5, and the nightingale necklace for only $6 shipped! - No Longer Available!




Updated: June 9th, 2008!